Electronic Records Management (ERM) | Intelligent Information Management (IIM)
At the heart of any digital transformation journey is information. Information is the currency that fuels and funds innovation, process improvements, and organizational performance. As a result, an organization's information is its most valuable asset; the common denominator in customer experience, business agility, operational excellence, and automation.
Certified Information Professional (CIP)
We've been offering the Certified Information Professional exam in a proctored online format for about a year now. In that time, we've noticed some common pitfalls that cause issues with candidates or even prevent them from completing the exam. Here are the top three issues candidates run into and how to avoid them: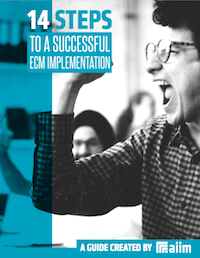 14 Steps to a Successful ECM Implementation
Making an ECM implementation successful requires planning and attention to detail. The best way to create the right solution is to identify organizational goals and priorities. Learn how to manage a successful implementation in our free guide.
We regularly discuss the value and importance of information governance - at our conference, in our training courses, in our virtual events. And we're by no means alone - every association and consulting firm in the industry has been making the same points for years. And if you're reading this post, you probably get it already. But what if your bosses still don't care? How can you move your organization's information governance program forward in the absence of management support or interest? There are two ways to approach this.
Intelligent Information Management (IIM)
"To Fly. To Serve." That's the motto of British Airways, a carrier I have flown for many years. When I first saw those words displayed on a plaque in the cabin as I boarded my flight, I chuckled. At the time, they seemed rather pretentious for what has become a very commonplace, almost plebeian way to get folks from one place to another. Of course, the more I thought about it, the more I warmed to the seriousness with which somebody at BA viewed the enormous responsibility inherent in transporting hundreds of people across the Atlantic in a silver tube. I realized how much was riding on that bus!
Electronic Records Management (ERM) | Intelligent Information Management (IIM)
AIIM believes that every organization should be on a Digital Transformation journey and that Intelligent Information Management is the driver for that transformation. But how do you begin to put all of the pieces together into an approach that will make a difference? That is the subject of a new eBook from AIIM titled How to Become a Modern Records Manager (and a Business Enabler). It explores ways to build a modern records management program that will put the "intelligent" into intelligent information management.
Intelligent Information Management (IIM)
Several months ago, I developed a nagging pain in my right shoulder. Nothing much at first, but over time, it got worse. Initially, I ignored the pain and hoped it would resolve itself. But it didn't. So I tried several common over-the-counter remedies; the ones that everyone takes. They provided some improvement, but none resolved my problem.