digital disruption | information security | podcast | privacy
Who is AIIM? Well, that's a challenging question considering AIIM is an organization... But, when we take a step back, it's easier to see that AIIM does have a persona. It's you, me, and the other 155,000 global information professionals worldwide that make up the AIIM Community. So to be able to answer a question like "Who is AIIM?", we had to go straight to the source!
digitization | ecm | erm | microsoft | office365 | sharepoint
A study (conducted by Hyperfish, Sharegate, and Nintex) found that 50% of organizations still use manual processes to enforce SharePoint governance. It doesn't have to be this way! New Office 365 capabilities allow you to automate important governance activities and core business processes.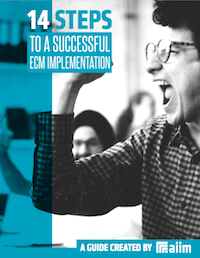 14 Steps to a Successful ECM Implementation
Making an ECM implementation successful requires planning and attention to detail. The best way to create the right solution is to identify organizational goals and priorities. Learn how to manage a successful implementation in our free guide.
digitization | erm | records management
There is nothing that brings a Digital Transformation journey to a halt more than a records management program that's stuck in the past. A modern enterprise needs records management practices that move the business forward, not hold it back.
AI | Artificial Intelligence | automation | document | document management
Artificial Intelligence (AI) is obviously all the rage. Consider the search traffic on "Artificial Intelligence" since early 2016. As a result, just about every technology product in the world now seems to have the artificial intelligence "label" attached to it.
Artificial Intelligence | digital transformation, | machine learning | training
Disruptive Technologies are changing existing landscapes Technology has had a profound impact on the business world. Simply walk into any business, no matter the size, and you will see the prolific adoption of technology. Digital project boards, virtual teams scattered across the globe; are all indicators of business reliance on this "fourth industrial revolution." From industry data and anecdotal evidence, this tech utilization is on an exponential increase.
social | social content | social meda
Social media marketing is a great way to help launch your startup. It's cheap and effective -- if you have a strategy. Where do you start? How do you attract customers through platforms like Twitter and Instagram? This guide will help you answer these questions and more. Here are 8 essential tips to help your social media marketing efforts: