The digital world has changed the way we live our lives. It has also changed the way organizations do business. With so much information being generated, it becomes more difficult for organizations to manage it all and ensure compliance with regulations like GDPR and HIPAA. Information governance helps organizations maintain control of their information while complying with these regulations.
Compliance | Electronic Records Management (ERM)
Late last year, the Securities and Exchange Commission announced that J.P. Morgan Securities LLC had agreed to pay $125 million to help settle charges of "widespread and longstanding failures by the firm and its employees to maintain and preserve written communications" over the course of several years. On the same day, the Commodity Futures Trading Commission ("CFTC") levied a $75 million fine against J.P. Morgan Securities ("JPMS"), along with two other JPMorgan Chase & Co. ("JPMorgan") entities, for substantially similar conduct—bringing the combined total penalty involving the JPMorgan parent organization to $200 million.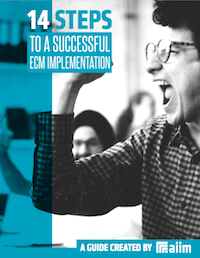 14 Steps to a Successful ECM Implementation
Making an ECM implementation successful requires planning and attention to detail. The best way to create the right solution is to identify organizational goals and priorities. Learn how to manage a successful implementation in our free guide.
Digital Transformation | Intelligent Information Management (IIM)
There are two things you should know about me. The first is that I love to eat. I have an appetite that was once described as "alarming." In my teenage years, I would kick back and devour an entire large pizza in one sitting. As I grew older, I refined my pallet and developed a desire for quality ingredients and a craving for a variety of flavors. The second thing you should know is that I hate to cook.
New cloud-based approaches promise to transform workflow in ways that produce new levels of service, savings, and responsiveness. There are many strategic reasons for moving to the cloud. Organizations around the world have embraced the cloud as a way to fundamentally improve the performance of the business and dramatically improve customer experience.
Cloud-based systems and applications are popular across organizations in all industries today and are largely regarded as a powerful platform for process innovation and improved organizational performance. According to the IDG 2021 Cloud Computing Survey, the majority (55%) of organizations are now using more than one public cloud. Cloud adoption has also reached more than two-thirds in every industry. Clearly, cloud technology has now established its predominance. Yet despite rising adoption, not every business has made the jump to the cloud. IDC found that only about 9% of organizations are "cloud-only" and over half (54%) remain mostly on-premises with some cloud-based systems mixed in.
Healthcare | Intelligent Information Management (IIM)
I'm at that age when the body starts to go. I now see 100 doctors – no, really, 85 at least. Or so it seems. If I'm not Zooming with my primary care provider, I'm swapping data with a specialist via a phone app or transmitting my blood pressure readings from my remote monitor to the disembodied nurse in my voicemail who chides me with messages if I miss a reading.