AIIM Community | Human Resources | Market Intelligence
AIIM has been discussing the next generation of information management leaders and how the industry can better attract and retain young professionals quite a lot in 2023, and with good reason.
Big Data | Compliance | Electronic Records Management (ERM) | Information Governance
This article was written by AIIM Florida Chapter Board Member Alvaro Arias Cruz, District Director of Archives of Bogotá. It was originally published in the AIIM Florida Chapter Newsletter in April 2023. Learn more about the AIIM Florida Chapter at https://aiimfl.org/. Colombia has one of the most robust and comprehensive archives laws in the Latin American region, identified as the General Archives Law (Law 594 of 2000). Through this state norm, Colombia and all its public institutions have made substantial progress in document management and archives administration, so much so that it has been recognized nationally and internationally as a reference for several countries to develop their own legal frameworks on their public archive policies.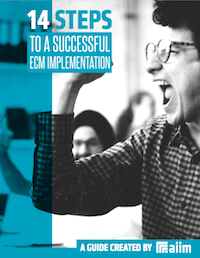 14 Steps to a Successful ECM Implementation
Making an ECM implementation successful requires planning and attention to detail. The best way to create the right solution is to identify organizational goals and priorities. Learn how to manage a successful implementation in our free guide.
AIIM Community | AIIM Conference | Market Intelligence
I was in Brazil recently to keynote the Information Show in Sao Paulo. Traveling to and speaking at Information Management conferences is endlessly fascinating. One might think that, except for language and location, Brazilian information management professional would be similar to their counterparts in North America and Europe, and in some regards, they are, but the differences can be surprising.
The AIIM 2023 Conference boasted a first-time attendee percentage of 61% and was graced by representatives from 28 countries. The overall agenda featured more than 80 sessions, so many topics and perspectives enriched the attendee experience. All the keynotes and general sessions were well-attended and ranged from discussing orthodox beliefs in the industry; the value of storytelling in IM; perspectives on artificial intelligence; and the C-Suite's take on Information Management.
Analytics | Intelligent Information Management (IIM)
AIIM is proud to release its State of the Intelligent Information Management Industry report for 2023. Filled with insights and trends that organizations should take note of, the report results from a survey conducted among AIIM members. It provides a comprehensive overview of the current state of information management across different industries.
When Tony invited me to write a guest blog for AIIM, I planned to write a techie piece on the latest document AI news. I was even tempted to ask ChatGPT to write one in the style of Monty Python. You'll be pleased to know that moment of temporary insanity quickly passed. Instead of techie talk, I would like to tell you a story about the secret value of AIIM and why I think it's vital that we all pitch in and help Tori Miller Liu and the team to move AIIM forward.