FIle Shares | co-authoring | digital transformation, | intelligent information management
Prior to becoming involved with the content and information management industry, I spent several years in the high-volume printing industry. I was a mid-level executive for a large health insurance provider and was responsible for printing and mailing, pre-press and offset printing, and electronic book publishing across four states. And let me tell you, my teams concentrated on output. Tons of it. Twenty four hours a day, 365 days of the year. Imagine stacks of paper everywhere and truckloads of output being shipped and mailed nationwide. This is in great contrast to today and my current involvement in the enterprise content management industry (now Intelligent Information Management) where our attention is largely focused on input...with much less focus on output. We aggressively capture data, input that information into advanced systems and databases, and then safeguard it with methodologies and teams designed to collect and protect information.
capture | ecm | enterprise content management
5 Elements of Real-time Capture Why should your organization care about the differences between real-time capture and batch capture? Each has a purpose and benefit to an organization, based on the need, information type, and value it represents in relation to operational outcomes. Many businesses today, are facing increased demands to capture information from unique applications immediately, and address multi-channel capture at the first touch-point of content. They are looking for ways to identify and harness the power of the most effective and efficient capture services to automate the capture process and integrate it with business critical processes and workflows. These developing requirements are defining the discussions around real-time capture.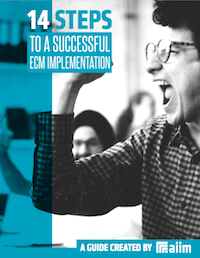 14 Steps to a Successful ECM Implementation
Making an ECM implementation successful requires planning and attention to detail. The best way to create the right solution is to identify organizational goals and priorities. Learn how to manage a successful implementation in our free guide.
AIIM19 | digital transformation, | intelligent information management | podcast
Have you ever watched a football game or other sporting event where they gave the players or coaches microphones? Or, how about an 'after show' of your favorite reality tv program? I don't know about you, but these are some of my favorites to watch because it gives the viewer a more intimate look than you would get by just watching the game or show normally. In these 'real life' situations you can hear directly from the players as they pump up their teammates, hear the strategy being passed between players and coaches, or hear directly from a reality tv star about what they were feeling during a specific situation.
FIle Shares | co-authoring | collaboration | digital transformation, | intelligent information management | podcast
It's warm greetings from sunny San Diego on this episode of the AIIM on Air podcast! Your host Kevin Craine comes to you from The AIIM Conference 2019 floor with a series of interviews from the hallways, sessions, and even poolside at the Conference Party (if you listen closely, you can hear the party's Beach Boys cover band in the background).
Before the introduction of online collaboration tools, work used to take place only in the office. However, online collaboration application has made a huge transformation. Nowadays, work is executed from the place where the team members are present. Online collaboration tools have ended up making the world a smaller place. These applications are smashing all the problems related to location and distance. With the help of these collaboration tools, employers are hiring their workforce from all over the world and employees are working without relocating. The privileges of Team Collaboration Software are numerous for both employers and employees. It is the perfect time to get onboard because remote collaboration work is the future. But before that, you should realize that online collaboration work is not merely about personal efficiency when you are not working from the office. You should know how to function in an organized form, as a virtual or remote team. Here are some of the competent suggestions that will help you to enhance your own work as well as your remote team to be more productive.
Some of you may know that, when I was a kid, my dad was my high school principal and my mom was our high school drama teacher. Basically, it meant that NO ONE asked me out on a date. But it also meant that I had a unique front row seat for observing my parents in their 'natural environments'. I knew they taught, I knew they loved what they did, and I knew they were really, really good at what they did because all the kids and teachers loved them. Naturally, I wanted to teach as well. But, unlike them, I had no idea what I wanted to teach. So, as my siblings became a teacher, a pharmacist, and an entrepreneur respectively, I became what they struggle to understand -- "Now what exactly is it that you do?"