Cloud-based systems and applications are popular across organizations in all industries today and are largely regarded as a powerful platform for process innovation and improved organizational performance. According to the IDG 2021 Cloud Computing Survey, the majority (55%) of organizations are now using more than one public cloud. Cloud adoption has also reached more than two-thirds in every industry. Clearly, cloud technology has now established its predominance. Yet despite rising adoption, not every business has made the jump to the cloud. IDC found that only about 9% of organizations are "cloud-only" and over half (54%) remain mostly on-premises with some cloud-based systems mixed in.
Healthcare | Intelligent Information Management (IIM)
I'm at that age when the body starts to go. I now see 100 doctors – no, really, 85 at least. Or so it seems. If I'm not Zooming with my primary care provider, I'm swapping data with a specialist via a phone app or transmitting my blood pressure readings from my remote monitor to the disembodied nurse in my voicemail who chides me with messages if I miss a reading.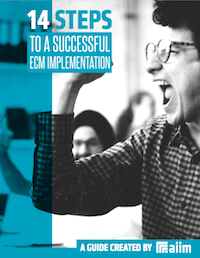 14 Steps to a Successful ECM Implementation
Making an ECM implementation successful requires planning and attention to detail. The best way to create the right solution is to identify organizational goals and priorities. Learn how to manage a successful implementation in our free guide.
From the Australian Open offering fans art ball NFTs with real-time match data to JPMorgan Chase's tiger-friendly lounge in the blockchain-based world Decentraland, metaverse events are exploding into 2022 as powerful new weapons to engage with people.
Business Process Management (BPM) | Process Improvement
There are some chores I love, many I don't mind, and a few that sap my will to live. Folding laundry falls into the soul-crushing category. I've tried doing it while I watch the Price is Right or rock out to Taylor Swift (yes, she's my guilty pleasure!), but nothing distracts me from the monotony of that task. And my least favorite part about it has always been trying to match the socks.
Companies are dealing with more data than ever before. In a complex IT environment, the challenge of maximizing the value of that data can be daunting. Everyone in an organization wants to excel, but many do not have holistic approaches for measuring the ongoing status and enhancement of their business data. Not doing so can result in lower overall company performance, incomplete or incorrect data to drive decisions, and undue stress, driving lower overall employee satisfaction.
Artificial Intelligence (AI) | Content Services | Robotic Process Automation (RPA)
Electric utilities in the United States are a major source of CO2 – they created 1.55 billion metric tons of it in 2020. This sector vies only with transportation in producing the most pollution on the planet. And according to the US Energy Information Agency, consumption is expected to grow by 50% by the year 2050.