content management | ecm | intelligent automation | modernization | rpa
Intelligent Automation requires both a top-down and a down-up strategy and the proper content capabilities to drive this strategy.
AI | AIIM19 | Artificial Intelligence | digital transformation, | intelligent information management
AIIM19 is only a short time away and information management professionals from around the world will converge in San Diego for three days of sessions, sharing and fun. But what can you expect this year? In this continuing series of AIIM19 session previews we get a taste of what's to come. I spoke recently with Angela Watt about her session, co-hosted with Emily Speight, titled "Absolute Intelligence: Taking the Artificial out of AI," and I asked her to briefly summarize the topics.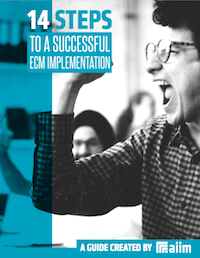 14 Steps to a Successful ECM Implementation
Making an ECM implementation successful requires planning and attention to detail. The best way to create the right solution is to identify organizational goals and priorities. Learn how to manage a successful implementation in our free guide.
AI | AIIM19 | Artificial Intelligence | digital transformation, | intelligent information management
There are some important sessions planned for AIIM19 this year. Topics range from artificial intelligence to business process automation and data analytics and beyond. But none will be more informative than a session planned by David Jacopille from Massachusetts Financial Services titled "Bot Bootcamp: How to Manage Your Artificial Employees." I spoke recently with David and asked him to give us a preview of what to expect.
content management | digital disruption | ecm | information management | modernization
The combination of cloud technologies plus mobile is a volatile one when it comes to the sustainability of existing organizations. We've never before been in a disruptive environment quite like this one, and it demands much more agile approaches to IT. Established incumbents are being challenged on every front. Consider the following:
AIIM19 | digital transformation, | intelligent information management
We have a number of important sessions planned for the AIIM19 conference coming to San Diego on March 26-28. I spoke with Carah Koch, the Director of Enterprise Content Management for the Metropolitan Council of the Twin Cities, about her session IIM Project Management and Self-Preservation: Why Successful Projects Are Not About You, and asked her to give us a short preview of what to expect.
business process management | digital signature | digital transformation, | e-signatures | esignatures | intelligent information management
Content, documents, and information are at the center of all organizations, of all sizes, and in all industries. But once your clients need to review, approve, sign a document, or receive some information— efficiency is key. That is when you need your organization and processes to shine. Allen Bonde, an analyst at Forrester, defines "The Magic Moment" as the moment of communication between your organization and your customer. At that moment, they are reminded of the power of story-telling, relationship-building, and creating lasting impressions. One of the most significant benefits of creating Magic Moments is the improvements companies see in their customer retention. The real question is, what can your organization do to achieve this Magic Moment? The easiest place to start is with your customer-facing business processes. Intelligent processes are key to creating a Magic Moment and that is where the digital transformation of your content and information can help.