AIIM Community | AIIM Conference
AIIM takes great pride in being an active member of our community. We're always trying to find new ways to give back - we have staff volunteer days, make donations to charity for responses to our surveys, and have given our time at homeless shelters, food kitchens, working farms, charity runs/walks and clothing drives. Now, we want to get YOU involved in the giving during The AIIM Conference.
On January 30, 2006, Terry Menta and AIIM's Jesse Wilkins were standing in front of a classroom of 8 students at a community college in San Francisco. They were there to teach AIIM's very first public training course. The subject was Electronic Records Management.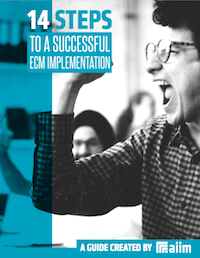 14 Steps to a Successful ECM Implementation
Making an ECM implementation successful requires planning and attention to detail. The best way to create the right solution is to identify organizational goals and priorities. Learn how to manage a successful implementation in our free guide.
For AIIM, 2015 was full of new endeavors, hard work, and celebration. This has been quite an exciting year for us, with new events, a new training course, and lots of new friends made along the way. The most important thing in the world to us is our community. That's why the theme of 2015 here at AIIM was "Personal Connections," us connecting with you and you connecting with each other.
Enterprise Resource Planning (ERP)
ERP systems create silos of content, along with storage issues and workflow dis-continuity. Oh my! In this infographic, we examine the issues that arise from uncoupled or loosely coupled ECM and ERP systems, the potential benefits of closely coupled systems, and recommendations when considering content integration between core business systems. Enjoy!