Business Process Management (BPM) | CRM | Enterprise Resource Planning (ERP) | Human Resources
I've been working on a project over the past few weeks focused on the role that content plays in core business processes, specifically Human Resources (HR), Customer Relationship Management (CRM), and Enterprise Resource Planning (ERP).
Enterprise Content Management (ECM) | Enterprise Resource Planning (ERP)
Are your Human Resources processes intelligent? Before you try and answer that, let me explain more about what I mean. This idea of intelligent processes stems from an evolving set of capabilities that transform the way we manage information into something smarter and more connected than ever before. AIIM calls this Intelligent Information Management - and we believe it has the power to revamp your business processes, including Human Capital Management (HCM).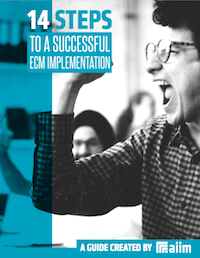 14 Steps to a Successful ECM Implementation
Making an ECM implementation successful requires planning and attention to detail. The best way to create the right solution is to identify organizational goals and priorities. Learn how to manage a successful implementation in our free guide.
Enterprise Resource Planning (ERP)
ERP systems create silos of content, along with storage issues and workflow dis-continuity. Oh my! In this infographic, we examine the issues that arise from uncoupled or loosely coupled ECM and ERP systems, the potential benefits of closely coupled systems, and recommendations when considering content integration between core business systems. Enjoy!
Enterprise Content Management (ECM) | Enterprise Resource Planning (ERP)
AIIM recently conducted a survey of 387 individuals from organizations with 100+ staff to measure the benefits of connecting ERP and ECM. ERP has long reigned supreme as the all-encompassing enterprise application and is primarily focused on structured content. Meanwhile ECM has grown rapidly to become the repository of all the unstructured content and documents that accumulate outside of the purely transactional processes. Joining up these two major business engines has major potential as a common information interface for users across the business.