What's the Importance of a Metadata Strategy? Many organizations use metadata in ways that provide significant business value. Every system uses metadata to store and retrieve data. But in too many organizations, every system uses similar but different metadata, with the result that different data structures and approaches make information harder to find and manage, not easier. Take a simple example of an employee name: In one system, it's "first name last name." In another, it's "last name, (comma) first name." And in still another, it's two fields: "First name" and "Last name."
Information needs context, and we need to provide that context in a way that doesn't burden users but instead supports them. This means we need to take full advantage of recognition and analytics technologies to streamline and automate how we develop that context. One such tool is Metadata. Metadata offers significant benefits in terms of understanding information in new ways and in being able to leverage that intelligence to drive innovation and the customer experience.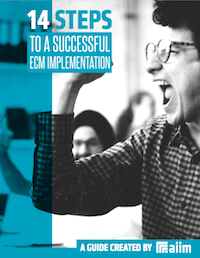 14 Steps to a Successful ECM Implementation
Making an ECM implementation successful requires planning and attention to detail. The best way to create the right solution is to identify organizational goals and priorities. Learn how to manage a successful implementation in our free guide.
Capture and Imaging | Electronic Records Management (ERM)
To succeed on the Digital Transformation journey, requires a strategy, planning, and the design of a better information ecosystem - what we refer to as Intelligent Information Management (IIM). The first step on this journey is to get all of your information into the information ecosystem. This is a practice called Capture. Let's take a deeper look at this first step of digital transformation.
Content Migration | Electronic Records Management (ERM)
Information has transformed in a big way over the past few decades, with some of the most significant changes coming in just the last five years. Year over year, information has seen a dramatic increase in both value and volume. The advancement of new technology has transitioned much of this from paper to digital – which presents its own set of new challenges regarding compliance, access, and protection. These changes all add up and have had a profound impact on how we create, manage, store, and access information today. Here at AIIM, we see this as an opportunity. We believe this means the practice of managing information and records can no longer be seen as solely an exercise for compliance – it needs to go beyond compliance and a key component in your business strategy.
Electronic Records Management (ERM)
What is the value of Records and Information Management? To help answer that, take a quick mental inventory of all the technologies your organization utilizes that interact in some way with organizational information. Think about technology like email, personal computers, the web, smart phones, social media, etc. Think about all of the information captured, stored, and created using those technologies.
Electronic Records Management (ERM)
Records can be vital to the business. That means the management of records is something that needs great care, attention, and planning. Although not a new concept, the game has somewhat changed in recent years as the way records are created and what is considered a record has evolved. Virtually all new records are created electronically today – they are what we call "born digital." Whether a record is in the format of a letter, an email, fax, a web, or other transaction, the chances are today that it originally was created with one or more computers. This is a situation that has crept up on us relatively fast and unnoticed by some organizations in records management terms at least.