Capture and Imaging | Intelligent Information Management (IIM)
According to AIIM research, 75% of the organizations we surveyed view digital transformation as "important" or "very important" to their organization. Survey respondents point to techniques like advanced data capture, machine learning, and process automation to provide the powerful potential to reengineer and improve core business processes. The trouble, however, is that that the majority of information capture and content management solutions on the market have been built to work with highly-structured and pre-determined information and workflows. Feedback from our AIIM community of practitioners tells us that working with unstructured information is one of the biggest barriers to digital transformation.
Capture and Imaging | Intelligent Information Management (IIM) | Robotic Process Automation (RPA)
There is a growing disconnect in organizations between their desire for process automation and the information that is needed to drive those processes. 54% of the information needed within a particular business application is stored within the application itself rather than within a dedicated content repository, a percentage that has remained remarkably consistent over the past five years.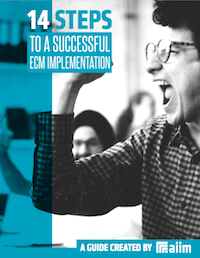 14 Steps to a Successful ECM Implementation
Making an ECM implementation successful requires planning and attention to detail. The best way to create the right solution is to identify organizational goals and priorities. Learn how to manage a successful implementation in our free guide.
Capture and Imaging | Intelligent Information Management (IIM)
Capture? Haven't we been doing this for years and years? Well…yes and no. Yes, organizations have been scanning paper into digital archives for a long time. And for 72% of organizations, scanning paper is still the most important part of their information capture strategy. The continued importance of simply getting rid of the paper is not just a function of laggard organizations; the struggle to get rid of paper is consistent across all levels of overall competence.
Capture and Imaging | Document Management
Companies are always looking for ways to make their workplace more productive and efficient and to reduce costs. Document management has an important part to play here. A survey conducted in 2012 showed that 21.3% of losses in employee productivity are due to paper-based documentation challenges that businesses go through. Converting your paper files into digital files via document scanning services can really help in alleviating the nuisance of managing paperwork at the office. While some documents do need to be printed, digitization can considerably increase your workplace productivity. With document scanning businesses, you can achieve superior efficiency, better systems for storage and retrieval and greater security controls. Let's take a deeper look into how digitization can prove to be beneficial for your business.
Capture and Imaging | Enterprise Content Management (ECM)
5 Elements of Real-time Capture Why should your organization care about the differences between real-time capture and batch capture? Each has a purpose and benefit to an organization, based on the need, information type, and value it represents in relation to operational outcomes. Many businesses today, are facing increased demands to capture information from unique applications immediately, and address multi-channel capture at the first touch-point of content. They are looking for ways to identify and harness the power of the most effective and efficient capture services to automate the capture process and integrate it with business critical processes and workflows. These developing requirements are defining the discussions around real-time capture.
Capture and Imaging | Enterprise Content Management (ECM)
Open Platforms: Perceptions and Realities What exactly does it mean to have an "open platform"? The perception is that an open platform has no restrictions or limitations; an open platform is agnostic. Yet reality is that there could be some limitations or restrictions. For example, there are ECM solutions that are built upon a proprietary database and are still considered to be "open". The reason being they support a specific set of open standards for interoperability and integration. While the concept is sound, and many businesses look to a day where interoperability and integration across the enterprise is achieved, AIIM research finds that only 8% of organizations have accomplished this.