Electronic Records Management (ERM) | Information Management
At the heart of any digital transformation journey is information. Information is the currency that fuels and funds innovation, process improvements, and organizational performance. As a result, an organization's information is its most valuable asset; the common denominator in customer experience, business agility, operational excellence, and automation.
Electronic Records Management (ERM) | Information Management
AIIM believes that every organization should be on a Digital Transformation journey and that Intelligent Information Management is the driver for that transformation. But how do you begin to put all of the pieces together into an approach that will make a difference? That is the subject of a new eBook from AIIM titled How to Become a Modern Records Manager (and a Business Enabler). It explores ways to build a modern records management program that will put the "intelligent" into intelligent information management.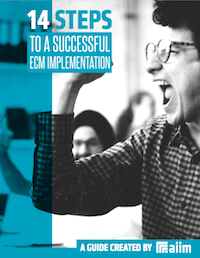 14 Steps to a Successful ECM Implementation
Making an ECM implementation successful requires planning and attention to detail. The best way to create the right solution is to identify organizational goals and priorities. Learn how to manage a successful implementation in our free guide.
Content Management | Electronic Records Management (ERM) | Enterprise Content Management (ECM) | automation
Guest Post: Joanne E. Novak from Konica Minolta Business Solutions. For the past 3 years, the Clerk of Common Pleas Court in Clark County, OH, Melissa Tuttle, has been utilizing a content management tool to automate her business workflows. Like many Counties, Melissa and her team deal with a lot of paperwork and file types. Utilizing a content management tool has helped them eliminate the time-consuming burden of pulling paper files manually and instead utilize automation so that Melissa and her team can do their jobs better. "[Our content management tool] is not just a scanning tool, but much more…to help the workflow and integrations, and help us achieve our goals in running the court system." - Melissa Tuttle, Clerk of Common Pleas Court, Clark County, OH This county adopted technology over a decade ago to become more efficient. Yet, today there are many other counties in the US still struggling with manual processes and paper files. With each state creating their own guidelines for public record requests, it's become a growing challenge for the clerk's office to respond "as quickly as possible" to provide the requested information.
Electronic Records Management (ERM) | Information Governance | gdpr | information security | privacy
A potentially problematic challenge for industry and legislators is the apparent tension between privacy rights and the rapid adoption of blockchain-based applications which are expected to reach $10.6 billion in revenue by 2023.