AIIM on Air | Electronic Records Management (ERM) | Intelligent Information Management (IIM)
The energy industry plays a crucial role in all our lives. Without it, we wouldn't be able to keep the lights on...or the wifi, or the computers...and so on, but what is it that powers this critical industry?
Electronic Records Management (ERM) | Retention
This is perhaps one of the most-asked questions in all of records management. Too often I hear one of two, equally bad answers: Keep Records for Seven years: This seems to be the de facto answer, especially for financial services records. As near as I can tell, this comes from the U.S. Internal Revenue Service rules around when they can audit individual and corporate tax returns. If you've heard another original story for why we should keep all records for seven years, please share, and I'll update this post. Keep Records Forever: This generally is presented as one of four arguments: Just in case we get sued (or for some other legal reason) There's gold in them thar records! Analytics! AI! BIG DATA!!! Storage is cheap, figuring out what we can get rid of is not. Storage is cheap, penalties for getting rid of records inappropriately aren't. How Long Should I Keep This Business Record for? Although popular answers tend to be "keep records forever" or "keep records for 7 years" which is based on financial record-keeping requirements, the best answer comes down to a number of factors including record type, industry, and more. Often, your organization's records management program will have processes in place to determine how long to keep business records.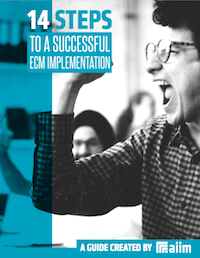 14 Steps to a Successful ECM Implementation
Making an ECM implementation successful requires planning and attention to detail. The best way to create the right solution is to identify organizational goals and priorities. Learn how to manage a successful implementation in our free guide.
AIIM Conference | Electronic Records Management (ERM)
The success of any project relies on involving stakeholders early on and keeping them properly informed throughout. A systems development project is no different. If you want the systems that you build, buy, and develop to properly manage information assets across the life cycle, then you have to leverage the knowledge of your RIM team.
Archiving | Electronic Records Management (ERM)
If your organization is like just about every other organization on the planet, you likely have some degree of an information management problem. Most likely, you create too much information, and you keep too much of it for too long. This causes enough problems by itself, but when you then add to the pile all the redundant, obsolete, and trivial (ROT) information you have in your systems, on your file shares, and in every other possible location, it's a real nightmare. And it's expensive – in terms of storage costs, in time to find information, in resources, and, sometimes, in fines and legal penalties.
AIIM Conference | Electronic Records Management (ERM)
There are many ways to learn beyond the traditional training course. I believe that one of the very best opportunities to learn comes from attending a conference. The sessions at most conferences are generally very good, but there is a bigger benefit for me. That's the opportunity to learn from my peers and colleagues, especially those from disciplines or industries I have less exposure to. It's those conversations in the halls between sessions, during the lunch break, or after hours at the karaoke bar that can often provide new insights or new ways of looking at things.
Compliance | Electronic Records Management (ERM) | Information Security
Only 3 of the worst 10 data breaches of all time happened in 2019, but it was still not a good year for data security. According to CNet, the primary culprit was "unsecured database." However, one significant contributing factor in many of them was that organizations collected and retained data they generally didn't need – and if they did, they didn't need to retain it as long as they had.