Big Data | Compliance | Electronic Records Management (ERM) | Information Governance
This article was written by AIIM Florida Chapter Board Member Alvaro Arias Cruz, District Director of Archives of Bogotá. It was originally published in the AIIM Florida Chapter Newsletter in April 2023. Learn more about the AIIM Florida Chapter at https://aiimfl.org/. Colombia has one of the most robust and comprehensive archives laws in the Latin American region, identified as the General Archives Law (Law 594 of 2000). Through this state norm, Colombia and all its public institutions have made substantial progress in document management and archives administration, so much so that it has been recognized nationally and internationally as a reference for several countries to develop their own legal frameworks on their public archive policies.
Compliance | Electronic Records Management (ERM)
Late last year, the Securities and Exchange Commission announced that J.P. Morgan Securities LLC had agreed to pay $125 million to help settle charges of "widespread and longstanding failures by the firm and its employees to maintain and preserve written communications" over the course of several years. On the same day, the Commodity Futures Trading Commission ("CFTC") levied a $75 million fine against J.P. Morgan Securities ("JPMS"), along with two other JPMorgan Chase & Co. ("JPMorgan") entities, for substantially similar conduct—bringing the combined total penalty involving the JPMorgan parent organization to $200 million.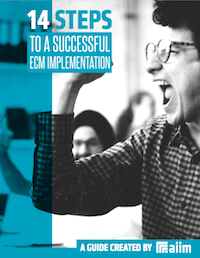 14 Steps to a Successful ECM Implementation
Making an ECM implementation successful requires planning and attention to detail. The best way to create the right solution is to identify organizational goals and priorities. Learn how to manage a successful implementation in our free guide.
Electronic Records Management (ERM) | Retention
What happens when information comes to the end of its lifecycle and no longer remains relevant, useful, or valuable? Or, what about when a record's retention schedule comes to an end? If we keep everything forever, we'll quickly run into issues like storage costs and other negatives like findability and increased risks. There's a better way - read on as we explore the importance of Disposition.
Electronic Records Management (ERM)
The National Archives and Records Administration (NARA) and Office of Management and Budget (OMB) set forth the government-wide policy M-19-21 as a directive to progress how government records are managed. Read on to learn what this directive is, who it impacts, and seven factors necessary to achieve compliance. What Is M-19-21? Who Does M-19-21 Impact? When Is The M-19-21 Deadline? 7 Factors Necessary to Achieve Compliance
Electronic Records Management (ERM)
In another post this week, we took a look at the first step in the information lifecycle – information capture. We not only talked about the importance of capture, but we also talked about what you should be capturing and what you should avoid capturing. Today, I'd like to dig a little deeper into that discussion and talk about how to distinguish between a record and a non-record. This is an important distinction to make when developing your Information Capture strategy. If you are new to records management, some of the following may need a little getting used to, especially if you associate 'anything that is in a file' with the idea of 'record'. In fact, many items that people keep, or file, are definitely not records. Let's start out with some examples of what is typically considered a record and what is typically NOT considered a record.
Capture and Imaging | Electronic Records Management (ERM)
To succeed on the Digital Transformation journey, requires a strategy, planning, and the design of a better information ecosystem - what we refer to as Intelligent Information Management (IIM). The first step on this journey is to get all of your information into the information ecosystem. This is a practice called Capture. Let's take a deeper look at this first step of digital transformation.