AIIM Conference | Change Management
Enacting change is easier when you don't have to go at it alone. In fact, a major factor in the success of organizational change comes down to internal buy-in with your co-workers. The more internal advocates you have on your side, the easier that positive change can spread quickly and efficiently. The old adage about there being 'strength in numbers' holds true when it comes to change management. So, how can you become an Internal Influencer and gain internal advocates for change? It may surprise you to learn that all it takes are some skills that can be applied with little to no cost beyond the investment of time.
This week I taught the AIIM Modern Records Management Master Class in Washington, DC. As with previous classes, there was a question that generated significant discussion among the students. In this instance, the question was about a system implementation that was not successful: "When you have a failed implementation, should you stick with it and try to make it work, or should you replace it with a better system?"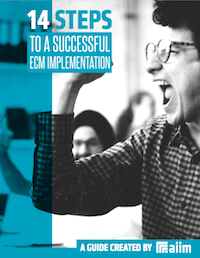 14 Steps to a Successful ECM Implementation
Making an ECM implementation successful requires planning and attention to detail. The best way to create the right solution is to identify organizational goals and priorities. Learn how to manage a successful implementation in our free guide.
AIIM on Air | Change Management
Over the course of several years, Kevin Craine has interviewed hundreds of folks in Information Management for the AIIM on Air podcast. There are a few questions Kevin loves to ask his guests: What's your biggest challenge right now? What's the one thing keeping you from truly innovating at your job? What is the single most significant barrier to digital transformation at your company?
Change Management | Intelligent Information Management (IIM)
In my previous blog on change management, we examined the natural and inevitable cycle of change that people go through during times of change. We explored how resistance to change is often a more troubling problem than even the most complicated tangle of technology, and how project managers and systems integrators need to account for these human factors. Indeed, no matter how innovative new systems and technology are, or how thoughtfully we have put together our strategies, if people resist change and find ways to sabotage our efforts, it is unlikely that even the best technical implementation will have meaningful success.
Change Management | Intelligent Information Management (IIM)
It is common to take great care in the selection and implementation of new technology. Interactions between hardware and software are cautiously investigated; operating systems and network connections are carefully tested, and uptime on critical systems is painstakingly protected. But one very influential factor that is often overlooked is the natural and emotional reactions of people when things change. If people resist change, find ways to sabotage your efforts or become angry or withdrawn, it is unlikely that even the best technology strategies will have meaningful success.
Business Process Management (BPM) | Change Management
You have led the pack in creating a digital transformation strategy but how do you get your employees to engage and help your organization realize its goals? Embracing new technology is not the major challenge – human behavior is a significant factor in the success or failure of such projects. In this article, we look at 5 ways to change your employees behavior and drive digital transformation in your organization.