Business Process Management (BPM) | Collaboration | Project Planning
Sometimes a little too much of a good thing can be a bad thing. An overabundance of motivation can lead to stress, fatigue, and burnout. According to the Harvard Business Review, the majority of managers now spend over 85% of their work time checking emails, checking up on meetings, connecting with people over the phone, and checking their phones for important, work-related updates. This is a staggering 50% jump in just a decade's time. Clearly, we need better ways to manage time.
Business Process Management (BPM) | Project Planning
Skilled project managers are the glue that keeps your team together. Without the shrewd judgment of an experienced project leader, your team is doomed to wander aimlessly from objective to objective with lowering morale, rising costs, and mounting hurdles.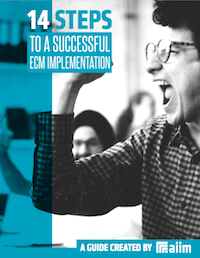 14 Steps to a Successful ECM Implementation
Making an ECM implementation successful requires planning and attention to detail. The best way to create the right solution is to identify organizational goals and priorities. Learn how to manage a successful implementation in our free guide.
Business Process Management (BPM) | Project Planning | agile
A great project development team can only be great with the right tools. Through the numerous project management methodologies and top-down inferences, there is one constant; management tools. Even the best managers can't work efficiently without them. They range from the micro to the macro and cover all of the aspects of a project's lifecycle. They create an atmosphere of greater cooperation and productivity. This makes them even more valuable to the heads. All leaders want effective teams and all effective teams use project management tools. In this article, we are going to cover some of the very best tools on the market today.
Business Process Management (BPM) | Project Planning | agile
Agile companies are ambitious. Agile teams seek to reach new heights by employing an iterative approach. While agile project management is an extremely popular project management framework, it's not wholly understood. More importantly, misusing the methodology can spell disasters for teams. Agile organizations have to be careful especially when hiring promising project managers to lead a new team. Here are 5 project management mistakes agile organizations should avoid at all costs:
Enterprise Content Management (ECM) | IIM x | Project Planning
Checklist for ECM Project Success – 14 Steps I recently put together a short white paper distilling my years of ECM experience into 14 steps –here's a snapshot: Keep your eye on the goal, and close tabs on the project. Create a framework for understanding how you will protect your information assets. Take time to get management buy-in on the front end. Explicitly think about how and when you will communicate about the project. Conduct an information survey to determine present-state. Create a business case with financial teeth. Build business and system requirements tied to the business case. Create a business classification scheme as a frame to your content. Clearly define user categories, roles, and contexts. Inventory the existing (and missing) people and technology assets to support the project. Create a meaningful pilot. Create a detailed roll-out plan – and follow it. Create a fall-back plan. After initial implementation, take time to determine and commit to next steps. The full white paper is HERE and FREE. Check it out.