For AIIM, 2017 began with this provocative question:
In an Artificial Intelligence world, where deep learning completely shrinks the development time while amping up the computing power, do content management capabilities become irrelevant and obsolete?
Certainly the terminology and label for "what we do" was debatable, but the limits of traditional ECM in the new digital economy, and the need for change were not. And so we entered 2017 with an eye on new applications of information in the workplace, the next big innovation waves, and the impact that both would have on the future of information management.
First, we agreed that technology is not the endgame; rather, Digital Transformation is the endgame. It is about using information in brand new ways to enable innovation and enrich customer experiences. For organizations to digitally transform, they need a much broader and more "consumable" content toolkit than was offered by ECM – or by (Gartner's term) "Content Services".
Enter Intelligent Information Management (IIM), AIIM's name for a roadmap that allows organizations to build those capabilities that are integral to delivering upon the Digital Transformation challenge of understanding, anticipating, and redefining internal and external customer experiences. As we see it, IIM comprises these elements:
Modernizing the information ecosystem
Digitalizing core organizational processes
Automating compliance & governance
Leveraging analytics & machine learning
We introduced these IIM concepts at the annual AIIM conference in March, 2017 and further developed them in a series of subsequent reports:

A Backward Glance at 2017
We must be on the right track, as our community embraced the 2017 portfolio of IIM-focused programs and contributed to our tremendous growth: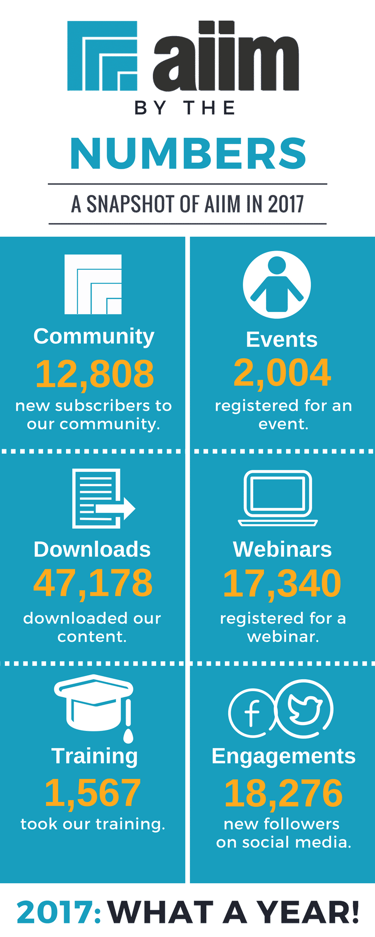 Download a PDF version of this infographic.
On the financial front, we returned our best net profit in over six years, and increased our reserves by 6% year-over-year. As such, YOUR association is healthy, committed, and well poised for continued program and community growth and development in 2018. Thank you!
What's in a Name?
In the immortal words of Bill Shakespeare, "A rose by any other name would smell just as sweet." Given the rapidly evolving role that content and information management will play in organizations going forward, the AIIM name is no longer sufficient to describe the influence of big data and analytics. Our members agree.
In a symbolic and historic show of support, the members voted, in December, to change the meaning of the AIIM acronym to Association for Intelligent Information Management. We're still AIIM, but with a redefined purpose and commitment to our members in the face of an industry disrupted.
A Look Ahead
Our key goals for the coming year are to 1) focus on educating the people who can put the policy, technology, and processes in place that let workers take advantage of having content management and analytics baked into new platforms and systems – and build on those content platforms to take their business to a whole new level and 2) articulate the cultural changes, mindsets, and tools that are needed to digitally transform.
These are indeed exciting times for our evolving industry. Let's celebrate together in San Antonio at AIIM18.