AIIM19 | IIM | customer experience | intelligent information management
At AIIM, we believe that every organization is on — or should be on — a Digital Transformation journey. How effectively you navigate this journey relies on how adept your organization is at combatting the rising tide of information chaos. This requires new strategies and skills that extend beyond traditional ECM. We call this modern approach Intelligent Information Management. The purpose of this journey, the reason for Digital Transformation, is a drive to understand, anticipate, and redefine internal and external customer experiences.
aiim | ecm | intelligent information management
For AIIM, 2017 began with this provocative question: In an Artificial Intelligence world, where deep learning completely shrinks the development time while amping up the computing power, do content management capabilities become irrelevant and obsolete?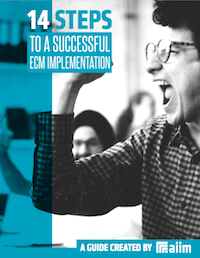 14 Steps to a Successful ECM Implementation
Making an ECM implementation successful requires planning and attention to detail. The best way to create the right solution is to identify organizational goals and priorities. Learn how to manage a successful implementation in our free guide.
Compliance and records management | electronic records management
In a digitally transforming business environment, neither Records Management nor Information Governance is at the top of your executives' list of priorities. Instead, business leaders are making time -- and making way -- for tools and techniques that execute processes nimbly and on demand for improved customer experience and competitive edge. The file cabinet metaphor doesn't work in the digital world, and the traditional approaches to identifying, appraising, and scheduling records and information, including electronic records, doesn't work on big data. Extracting insight from this exploding volume of information requires individuals who can prepare it for machine learning and deep learning. By converting everything to digital form, organizations can apply auto-classification technologies to dispose of information without business value, allowing people to focus on mission, not on managing their information and records for retention. And, managing data at this massive scale increases the need for metadata management. It's the key to moving from a "store everything" mindset to a "put it to work" mindset. Where does all this leave the records management professional? Where are the proof points for records management as business enabler? You may not think so, but Records Managers can play a vital role in this business transformation -- if they change their approach and mindsets to connect to the bigger world of data and content. While the value is in content in motion, the granularity of the content and the elements of control are still important to the process. Records professionals certainly lend perspective to that! I've spoken with a few forward-thinking records pros who contend that the industry would have been better served by striving to modernize 'records management' than by trying to convince people they need "information governance". We'll be discussing that concept over lunch in a few cities this fall. Our aim is that together, we will assemble the proof points that redefine records management for a digitally transforming world. We invite you to join us in your neck of the woods.
certification | certified information professional | cip | information | information certification | information management
I have a confession to make: I was a CIP skeptic. That's right; I often found myself questioning whether the body of knowledge CIP represents -- even in its redesigned form -- was truly relevant for today's information stewards in leading the digital transformation charge. I wondered whether business strategists who comprise the fastest growing AIIM membership sector would find applicability therein? Or, was CIP simply a capstone on a lifelong career for those core (and fewer) content "specialists"?
AIIM17 | AIIM18 | aiim conference | information | information management
After watching this "Look Back at AIIM17" video, it's hard to believe that more than a month has passed since we were in Orlando. And yet, the keynotes, sessions, festivities and fireworks feel like they took place ages ago. The sheer energy rush and euphoria that characterizes a gathering of the tribe like ours has already been replaced with a "back-to-work" resoluteness. After all, we've got work to do, to develop the ideas exchanged and the promises made.
AIIM17 | aiim conference | information | information management
The problem with most conferences is that, while they inspire and motivate onsite, they fail to provide lasting prescriptive guidelines or hacks that can be applied "back at the ranch." This deficiency may lay with the conference program itself, lack of planning on the part of the attendee, or both. At AIIM17, our goal is to ensure that your three-day investment delivers at least a year's worth of value to you and your organization.