AIIM Conference | Digital Transformation
It's no secret that AIIM believes every organization is on — or should be on — a Digital Transformation journey. In fact, AIIM itself is on its own Digital Transformation!
"To Fly. To Serve." That's the motto of British Airways, a carrier I have flown for many years. When I first saw those words displayed on a plaque in the cabin as I boarded my flight, I chuckled. At the time, they seemed rather pretentious for what has become a very commonplace, almost plebeian way to get folks from one place to another. Of course, the more I thought about it, the more I warmed to the seriousness with which somebody at BA viewed the enormous responsibility inherent in transporting hundreds of people across the Atlantic in a silver tube. I realized how much was riding on that bus!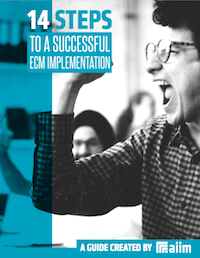 14 Steps to a Successful ECM Implementation
Making an ECM implementation successful requires planning and attention to detail. The best way to create the right solution is to identify organizational goals and priorities. Learn how to manage a successful implementation in our free guide.
AIIM Conference | Intelligent Information Management (IIM)
At AIIM, we believe that every organization is on — or should be on — a Digital Transformation journey. How effectively you navigate this journey relies on how adept your organization is at combatting the rising tide of information chaos. This requires new strategies and skills that extend beyond traditional ECM. We call this modern approach Intelligent Information Management.
AIIM Tribe | Enterprise Content Management (ECM) | Intelligent Information Management (IIM)
For AIIM, 2017 began with this provocative question: In an Artificial Intelligence world, where deep learning completely shrinks the development time while amping up the computing power, do content management capabilities become irrelevant and obsolete?
Electronic Records Management (ERM)
In a digitally transforming business environment, neither Records Management nor Information Governance is at the top of your executives' list of priorities. Instead, business leaders are making time -- and making way -- for tools and techniques that execute processes nimbly and on-demand for improved customer experience and competitive edge.
Certified Information Professional (CIP)
I have a confession to make: I was a CIP skeptic. That's right; I often found myself questioning whether the body of knowledge CIP represents -- even in its redesigned form -- was truly relevant for today's information stewards in leading the digital transformation charge. I wondered whether business strategists who comprise the fastest growing AIIM membership sector would find applicability therein? Or, was CIP simply a capstone on a lifelong career for those core (and fewer) content "specialists"?