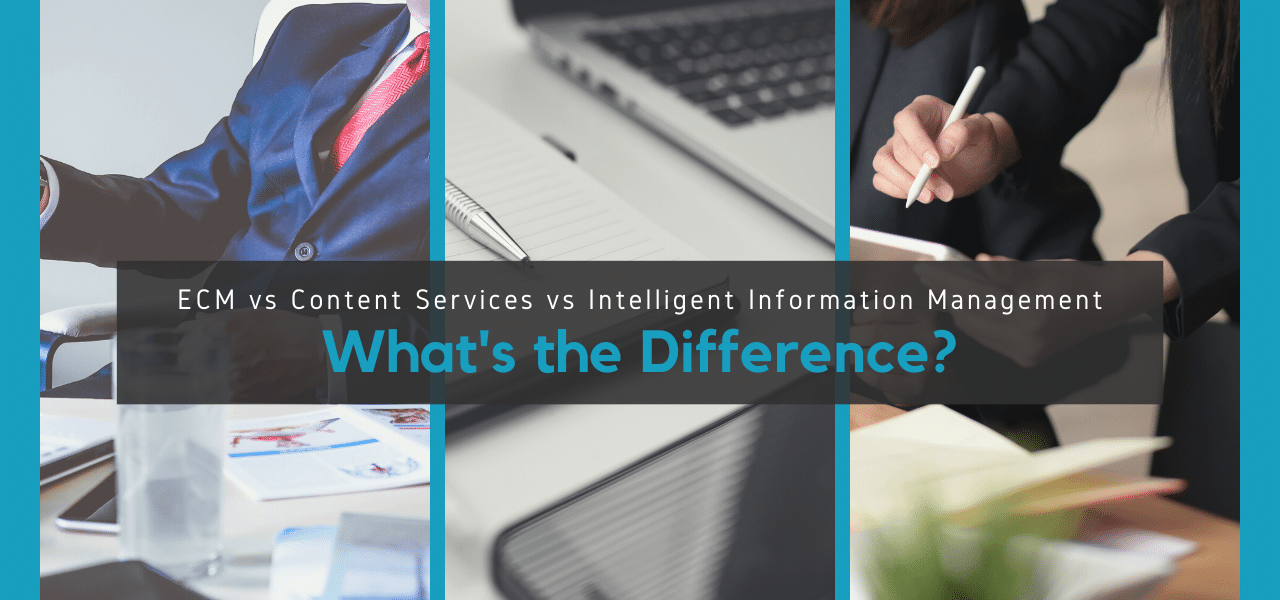 Subscribe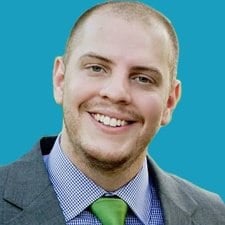 ECM vs. Content Services vs. Intelligent Information Management
Enterprise Content Management (ECM) | Content Services | Intelligent Information Management (IIM)
In recent years, nothing has sparked more controversy in the information management industry than the 2017 Gartner post officially retiring the term "Enterprise Content Management (ECM)" in favor of a new term, content services.
Here at AIIM, we've been providing independent research, educational training, and certification for over 70 years. For a good majority of that time, the focus has been on ECM and the practices associated with ECM to capture, store, manage, and preserve information. Heck, we even standardized the term Enterprise Content Management way back in the early 2000s, so in a lot of ways, AIIM is uniquely positioned to help clarify some of the confusion that may still remain.
We completely agree that the shift to more modular solutions requires a new name and that content services accurately describes the latest generation of content management tools. Where the term falls short is in describing the strategies and methodologies of using that technology for information management – a practice we're calling Intelligent Information Management.
At this point, you may be saying, "ECM, Content Services, Intelligent Information Management – What's the difference?"
Before we go further, let's start with some definitions.
---
---
What is Enterprise Content Management (ECM)?
"Enterprise Content Management (ECM) is the strategies, methods, and tools used to capture, manage, store, preserve, and deliver content and documents related to organizational processes. It's the architecture that glues your documents and business content together — making them searchable, explorable, organized, and ultimately meaningful."
It's important to note the bolded section here, which goes beyond ECM as a technology and includes ECM as a practice.
What is Content Services?
AIIM's written about content services using the following definition:
"Content Services is an alternative strategy to provide a more practical, multi-repository solution to achieve the benefits promised by the original vision of ECM: to intelligently capture information, disseminate it to the right people, processes, and departments, while ensuring compliance and creating process and cost efficiencies."
It's not wrong to call it ECM in the Cloud—but it's more than that. Content services is principled in integration, bringing together architecture supportive of on-premises and hybrid cloud services, a multi-repository approach to manage content regardless of its source repository, and intelligent functions like enterprise search to create agile, cost-effective solutions."
What is Intelligent Information Management?
Before we move forward with defining Intelligent Information Management, it's important to consider how IIM came about. If you were to compare AIIM's definitions of ECM and content services, you might notice there's something missing. Content services may be the replacement technology, but what about the methods and strategies of ECM as a practice? This gap was the key driver for AIIM to coin the new term Intelligent Information Management (IIM).
AIIM defines Intelligent Information Management (IIM) as a roadmap that provides the following key capabilities:
CONTENT SERVICES: A flexible and modular approach that utilizes content and information wherever and whenever it is needed, independent of where it is stored.
PROCESS SERVICES: Tools that can be delivered with the simplicity of an app, but within a framework that allows the business to remain in control.
ANALYTICS SERVICES: Automated tools to prepare all information – both structured and unstructured -- for machine learning.
The term services is intentional because a modern enterprise must be able to link these capabilities together on the fly to respond to a continually changing business environment.
The following infographic illustrates how content services, process services, and analytics services work together under the umbrella of IIM. Notice that content services is included in IIM as a practice: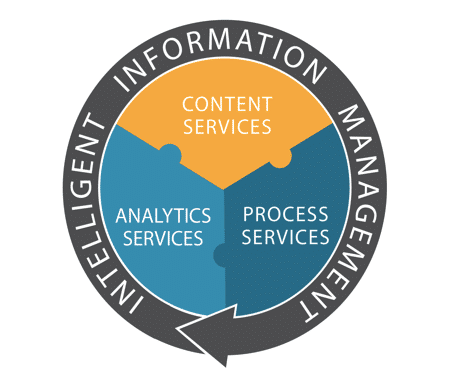 Bringing It All Together
At AIIM, transforming business (and the term ECM) has never been about the technology itself, but rather, it has always been about the business improvements organizations want to make, and the many facets of managing the lifecycle of information across an enterprise that enable organizations to make them. ECM used to be the intersection of technology, methodologies, and strategies to get you there. Content services may be the new set of technology to replace the solution-side of ECM, but IIM wraps the technology with the practices to capture, store, manage, and preserve your information.