Automation | Electronic Records Management (ERM) | Information Governance
Before we start, let's take a minute to address the big elephant in the room. You're probably thinking, "Where are you going with this sales angle, Sean? I work with records and information, and my job is all about managing, protecting, and storing it. I don't sell a thing!" Well, what we're going to cover today will show you that you ARE, in fact, in the business of selling when it comes to Information Governance – it's just a slightly different model than we're all used to. In this selling model, we're not exchanging goods and services for money; we're exchanging ideas for acceptance.
Automation | Electronic Records Management (ERM) | Information Governance
Words are important. Beyond that, the words you choose can mean the difference between someone understanding what you're saying and someone giving you that glazed expression with one eyebrow lifted saying, "Huh?" It's just as important to think of WHO you are communicating to, as it is to think of WHAT you're trying to say. Allow me to share a quick example to illustrate my point. One of my favorite hobbies is fly fishing. To me, there's nothing like being out in the middle of nowhere, wading into the middle of a crystal clear river, and trying to fool some trout.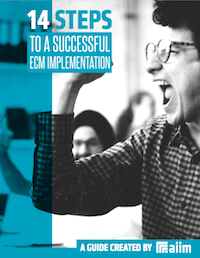 14 Steps to a Successful ECM Implementation
Making an ECM implementation successful requires planning and attention to detail. The best way to create the right solution is to identify organizational goals and priorities. Learn how to manage a successful implementation in our free guide.
Artificial Intelligence (AI) | Robotic Process Automation (RPA)
Growing up, my parents taught me that there are some questions that aren't appropriate to ask. Generally, it's safe to avoid asking people their age, their salary, their weight, their politics, etc. Some questions can make the people being asked feel uncomfortable and so should be avoided.
Cloud Content Management has the power to change the game for businesses of all sizes and types. This powerful technology and its massively scalable storage and operational power can crunch large sets of data, use analytics to understand it, and provide the security needed to lock it all down.
AIIM on Air | Intelligent Information Management (IIM)
There's no doubt that the world has changed as a result of the pandemic. In our personal lives, we've made the necessary changes to our daily routines, added a mask to our list of things to remember when we leave the house along with our cell phones, wallet, and keys, and moved many of our social gatherings online.
AIIM on Air | Intelligent Information Management (IIM)
All around us, technology is changing everything. Many can remember having to go to their local video store to rent a movie. Now, with the click of a button from the comfort of your own living room, you can access an endless amount of streaming movies. Even the simpler things in life, like flipping on a light switch, are being replaced by technology. You no longer have to lift a finger to turn on the lamp; technology can help you illuminate the room just by saying, "Alexa, turn on the lights."