On this episode of the AIIM on Air Podcast, your host Kevin Craine dives into the world of Intelligent Information Management in the Utilities Industry continuing the series of "I Am AIIM" member interviews. Kevin chats with two AIIM members from the Utilities Industry – Joanna Hammerschmidt, an Information Management Coordinator at a public water utility in Kansas City and John Daly, an Information Governance Manager for the Metropolitan St Louis Sewer District.
Over the course of several years, Kevin Craine has interviewed hundreds of folks in Information Management for the AIIM on Air podcast. There are a few questions Kevin loves to ask his guests: What's your biggest challenge right now? What's the one thing keeping you from truly innovating at your job? What is the single most significant barrier to digital transformation at your company?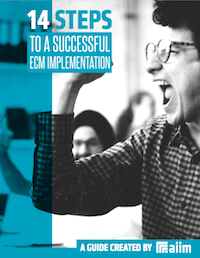 14 Steps to a Successful ECM Implementation
Making an ECM implementation successful requires planning and attention to detail. The best way to create the right solution is to identify organizational goals and priorities. Learn how to manage a successful implementation in our free guide.
Artificial Intelligence (AI) | Intelligent Information Management (IIM)
When I was a kid in grade school, I always hated homework because it often stood in the way of going outside to play with my friends. I can remember joking around with them and saying that we needed to build a robot to do our homework for us. That way, we could spend our after school time riding bikes and playing together.
Intelligent Information Management (IIM) | Women in Information Management (WIIM)
AIIM strongly believes in an even 50/50 split between men and women in the workplace. As the roles of women in the workplace have changed dramatically over the past few decades, more and more women continue to take on roles in Information Management. To grow and support this exciting transition, AIIM launched the Women In Information Management (WIIM) program.
Analytics | Cloud | Content Services | Intelligent Information Management (IIM)
Over the past few years, we've seen the Enterprise Content Management (ECM) industry go through some significant changes. Many would say it goes even deeper than change and have been calling it a metamorphosis. In nature, metamorphosis is the process of transformation from an immature form to an adult form in two or more distinct stages – a good example is a tadpole turning into a frog.
Cloud | Intelligent Information Management (IIM) | Mobile
The modern business ecosystem has changed considerably in just the past few years and with it have come some new challenges for the information professionals involved in storing, maintaining, and protecting it all. Managing business information has grown from something that was once limited and contained behind the corporate walls to something that's well…anywhere and everywhere! The rising demand for new devices, greater agility, and work beyond the corporate wall has given birth to a new wave of challenges, including: