Digital Transformation and Intelligent Information Management Here at AIIM, we talk a lot about Digital Transformation and its link with the practice of Intelligent Information Management. But, what exactly is the link between IIM and Digital Transformation? We explore this topic thoroughly in this previous post, but in summary: Every organization is on – or should be on – a Digital Transformation journey. At the heart of this Transformation journey is the drive toward 1) understanding, anticipating, and redefining internal and external customer experiences. This primary driver depends on other key transformative aspirations such as 2) business agility/innovation, 3) operational excellence, and 4) automated compliance/governance. These drivers require information – in a leverageable form. Today, that's not always an easy task as the volume, velocity, and variety of information that most organizations need to manage, store, and protect now exceeds their ability to even marginally keep pace with big content challenges. That's where IIM comes in. This rising tide of information chaos and confusion is creating a demand for new information management practices that extend beyond traditional Enterprise Content Management. AIIM calls this Intelligent Information Management (IIM).
Despite the proven operational improvements to be gain by going paperless, paper is still prevalent in too many core business processes today including loan applications, insurance claims, and customer onboarding. After last year's mad dash to accommodate distributed workers and work places, the reticence to digitize paper processes is decreasing. 70% of AIIM survey respondents indicate that they plan to expand their efforts to encourage and support more digitally-born documents this year. And, 41% said they plan to fully embrace electronic forms. In today's post, we'll take a holistic look at eliminating paper from your business processes by exploring: The Benefits of Paperless Processes How Today's Organizations Are Prioritizing Key Considerations for Getting Started Steps to Eliminate Paper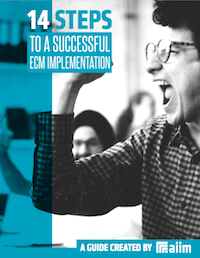 14 Steps to a Successful ECM Implementation
Making an ECM implementation successful requires planning and attention to detail. The best way to create the right solution is to identify organizational goals and priorities. Learn how to manage a successful implementation in our free guide.
Digital Transformation | Intelligent Information Management (IIM)
In both our personal and professional lives, the amount of information we deal with on a daily basis is growing exponentially. At the same time, the variety of this information is evolving -- audio files, video files, and more. The cummulative effect? Information Chaos! For many organizations, information is largely viewed as an achilles heel that must be tamed and controlled. Efforts to do so have largely been focused on reducing cost and risk. However, if information is the currency that fuels digital transformation, organizations cannot continue down the path of viewing information management decisions solely through a tactical cost-minimization filter. In a digital age, the everyday decisions that organizations make about information must become strategic business decisions and must also consider information as a strategic enabler.
We've all been there, adding in our personal information online to complete a form, make a purchase, or sign up for an offer, and before we click the submission button, we think, "Is this information safe? How might it be used?" We ask ourselves these questions more and more as we continue to grow and expand our online experiences using our personal information. But, whether we realize it or not, it's more than just a matter of safety. As you'll discover in this post, this exchange of information can also be a matter of ethics.
There are still many organizations that could benefit from the adoption of process automation technologies like Business Process Management (BPM), Robotic Process Automation (RPA), and Case Management. In fact, according to AIIM research, the overall adoption of these technologies is around 30-40% of organizations, skewed toward larger organizations with more than 1,000 employees. That leaves roughly 60-70% of organizations that make up potential users. To help these potential users, we surveyed experienced users of BPM, RPA, and/or Case Management technologies for their best advice for getting started.
The volume, velocity, and variety of information that most organizations need to manage, store, and protect now exceeds their ability to even marginally keep pace manually. This rising tide of information requires thoughtful strategies for automation to leverage its true power. To see what really drives the push to automation, AIIM surveyed over 260+ information professionals (click here to get a Free copy of the report). Here's a look at why the AIIM Community cares about process automation.