cloud | intelligent information management | mobile | podcast
The modern business ecosystem has changed considerably in just the past few years and with it have come some new challenges for the information professionals involved in storing, maintaining, and protecting it all. Managing business information has grown from something that was once limited and contained behind the corporate walls to something that's well…anywhere and everywhere! The rising demand for new devices, greater agility, and work beyond the corporate wall has given birth to a new wave of challenges, including:
certification | certified information professional | cip | podcast
By now, you may have heard that AIIM is in the process of updating its Certified Information Professional (CIP) Program. With CIP 3 set to launch soon, your podcast host Kevin Craine wanted to dig deeper into what users can expect from the revamp of the program.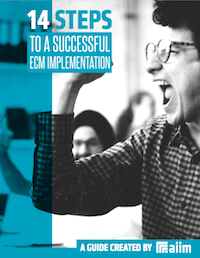 14 Steps to a Successful ECM Implementation
Making an ECM implementation successful requires planning and attention to detail. The best way to create the right solution is to identify organizational goals and priorities. Learn how to manage a successful implementation in our free guide.
Did you know that AIIM is governed by a Board of Directors (BOD)? Our BOD is the governing body of our Association. We rely on this group of individuals to help us establish strategic direction and set policies. Members of the Board represent a cross-section of our community who volunteer their time and talents to this position.
AIIM19 | digital transformation, | intelligent information management | podcast
Have you ever watched a football game or other sporting event where they gave the players or coaches microphones? Or, how about an 'after show' of your favorite reality tv program? I don't know about you, but these are some of my favorites to watch because it gives the viewer a more intimate look than you would get by just watching the game or show normally. In these 'real life' situations you can hear directly from the players as they pump up their teammates, hear the strategy being passed between players and coaches, or hear directly from a reality tv star about what they were feeling during a specific situation.
FIle Shares | co-authoring | collaboration | digital transformation, | intelligent information management | podcast
It's warm greetings from sunny San Diego on this episode of the AIIM on Air podcast! Your host Kevin Craine comes to you from The AIIM Conference 2019 floor with a series of interviews from the hallways, sessions, and even poolside at the Conference Party (if you listen closely, you can hear the party's Beach Boys cover band in the background).
digital transformation, | intelligent information management | podcast
"Every organization is on — or should be on — a Digital Transformation journey." I would bet that this isn't the first time you've heard that statement. At AIIM, we really believe in that statement, so we've been practically screaming it from mountain tops.