The movement to the cloud is past the tipping point. Cloud solutions are no longer a question of "should we?" but rather "when?" Organizations may not be ready to go 100% to the cloud, but for nearly 80% of organizations, cloud is a critical part of their strategy. Consider this data from a Fall 2017 AIIM survey of 182 end-user organizations:
Carefully think through the pros and cons of your approach to content migration. The advent of a new generation of modern content solutions and the desire of many organizations to reduce the number of content systems is driving organizations to look at how they can update their content management infrastructure.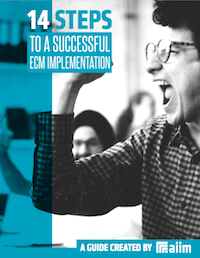 14 Steps to a Successful ECM Implementation
Making an ECM implementation successful requires planning and attention to detail. The best way to create the right solution is to identify organizational goals and priorities. Learn how to manage a successful implementation in our free guide.
Content Migration | Enterprise Content Management (ECM)
Organizations have a decision to make relative to the large volume of documents in existing legacy systems. The challenge is that organizations may have millions of documents. Which should be moved and which should stay where they are? What can be safely archived or deleted? According to a Forrester survey, only 7% of organizations surveyed have migrated all content to new ECM systems. The vast majority – 87% – retain some or most legacy content remains in old systems. Updating your infrastructure to take advantage of the benefits of a more modern-cloud-based structure requires a content integration platform – and one that is flexible enough to evolve over time.
Content Migration | Enterprise Content Management (ECM)
Never have the risks of disruption – and the rewards of nimbleness and agility and creativity -- been higher. SaaS solutions to enterprise problems – with far fewer aches and pains to business types -- have swept through corporate America. For years, Boomers had the benefit of numbers – after all, they still represented the majority of the workforce and dominated the C-Level within organizations. By 2020, those pesky Gen X, Y, and Z folks will be 80% of the workforce. The Boomers – and the institutional knowledge they have – will largely be gone.
Rapid technology change in the information management space is creating a fundamental tension for organizations. On the one hand, as organizations make their plans for the next 18-24 months, they can clearly see the attractiveness of cloud content management solutions and the imperative of making these solutions a more important part of their infrastructure. On the other hand, they likely have older legacy ECM systems – likely multiple systems – performing critical functions that can't just be turned off without suffering lots of business disruption.
Content Migration | Enterprise Content Management (ECM)
The term Enterprise Content Management (ECM) has been with us for 15 years. It hasn't been a perfect term, and perhaps in truth has been better suited as a description of a strategy than as a description for a set of IT tools and technologies.