The international standard on records management, ISO 15489 defines migration as the: "Act of moving records from one system to another, while maintaining the records' authenticity, integrity, reliability, and usability." But, migration is much broader than just records. Essentially, any time a legacy system is decommissioned, it should be reviewed to determine: What information is stored there? Does this information still need to be actively accessible? After asking these questions, you'll be able to determine when migration is needed. But, before you begin, I wanted to cover some problems that are commonly encountered with content migrations. Preparing for these challenges ahead of time can save you time, money, and countless headaches.
Change Management | Content Migration | Enterprise Content Management (ECM)
"Legacy" is a term we see a lot in the IT world; in reference to software and hardware, it describes a system that has been superseded by improved technology. It's easy to identify these systems with one simple question: "Have our business needs outgrown this system?" If you answered yes, it's likely you're in need of a legacy system replacement project - a project to replace the outdated system with a new system that can better suit the needs of the business.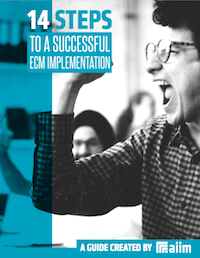 14 Steps to a Successful ECM Implementation
Making an ECM implementation successful requires planning and attention to detail. The best way to create the right solution is to identify organizational goals and priorities. Learn how to manage a successful implementation in our free guide.
You've made a New Year's resolution to clean up one of your digital landfills. Congratulations! But where do you start? In this blog post, we present an approach and checklist for migrating your information from one system to another. While the details will differ depending on a number of factors (the systems being migrated from and to, the nature of the information being migrated, etc.), many of the steps in the migration process will be similar. We believe that an effective migration process consists of four primary phases: Strategy Planning Preparation Migration
Cloud | Content Migration | Enterprise Content Management (ECM)
The movement to the cloud is past the tipping point. Cloud solutions are no longer a question of "should we?" but rather "when?" Organizations may not be ready to go 100% to the cloud, but for nearly 80% of organizations, cloud is a critical part of their strategy. Consider this data from a Fall 2017 AIIM survey of 182 end-user organizations:
Content Migration | Enterprise Content Management (ECM)
Organizations have a decision to make relative to the large volume of documents in existing legacy systems. The challenge is that organizations may have millions of documents. Which should be moved and which should stay where they are? What can be safely archived or deleted? According to a Forrester survey, only 7% of organizations surveyed have migrated all content to new ECM systems. The vast majority – 87% – retain some or most legacy content remains in old systems. Updating your infrastructure to take advantage of the benefits of a more modern-cloud-based structure requires a content integration platform – and one that is flexible enough to evolve over time.
Content Migration | Enterprise Content Management (ECM)
Never have the risks of disruption – and the rewards of nimbleness and agility and creativity -- been higher. SaaS solutions to enterprise problems – with far fewer aches and pains to business types -- have swept through corporate America. For years, Boomers had the benefit of numbers – after all, they still represented the majority of the workforce and dominated the C-Level within organizations. By 2020, those pesky Gen X, Y, and Z folks will be 80% of the workforce. The Boomers – and the institutional knowledge they have – will largely be gone.