Migrating to a new system or moving to a new platform? Then you'll definitely need to create a successful data migration strategy to protect your valuable data and achieve the desired results. In this article, we'll take a look at several ways to migrate your data. They will allow you to build a successful strategy, prevent data loss, and make everything as efficient as possible.
Content Migration | Electronic Records Management (ERM)
Information has transformed in a big way over the past few decades, with some of the most significant changes coming in just the last five years. Year over year, information has seen a dramatic increase in both value and volume. The advancement of new technology has transitioned much of this from paper to digital – which presents its own set of new challenges regarding compliance, access, and protection. These changes all add up and have had a profound impact on how we create, manage, store, and access information today. Here at AIIM, we see this as an opportunity. We believe this means the practice of managing information and records can no longer be seen as solely an exercise for compliance – it needs to go beyond compliance and a key component in your business strategy.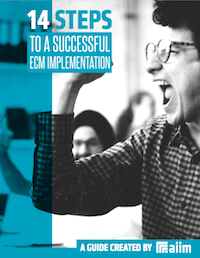 14 Steps to a Successful ECM Implementation
Making an ECM implementation successful requires planning and attention to detail. The best way to create the right solution is to identify organizational goals and priorities. Learn how to manage a successful implementation in our free guide.
The international standard on records management, ISO 15489 defines migration as the: "Act of moving records from one system to another, while maintaining the records' authenticity, integrity, reliability, and usability." But, migration is much broader than just records. Essentially, any time a legacy system is decommissioned, it should be reviewed to determine: What information is stored there? Does this information still need to be actively accessible?
Content Migration | Enterprise Content Management (ECM)
"Legacy" is a term we see a lot in the IT world; in reference to software and hardware, it describes a system that has been superseded by improved technology. It's easy to identify these systems with one simple question: "Have our business needs outgrown this system?" If you answered yes, it's likely you're in need of a legacy system replacement project - a project to replace the outdated system with a new system that can better suit the needs of the business.
You've made a New Year's resolution to clean up one of your digital landfills. Congratulations! But where do you start? In this blog post, we present an approach and checklist for migrating your information from one system to another. While the details will differ depending on a number of factors (the systems being migrated from and to, the nature of the information being migrated, etc.), many of the steps in the migration process will be similar. We believe that an effective migration process consists of four primary phases: Strategy Planning Preparation Migration
The movement to the cloud is past the tipping point. Cloud solutions are no longer a question of "should we?" but rather "when?" Organizations may not be ready to go 100% to the cloud, but for nearly 80% of organizations, cloud is a critical part of their strategy. Consider this data from a Fall 2017 AIIM survey of 182 end-user organizations: