Collaboration | File Shares | Intelligent Information Management (IIM)
Prior to becoming involved with the content and information management industry, I spent several years in the high-volume printing industry. I was a mid-level executive for a large health insurance provider and was responsible for printing and mailing, pre-press and offset printing, and electronic book publishing across four states. And let me tell you, my teams concentrated on output. Tons of it. Twenty four hours a day, 365 days of the year. Imagine stacks of paper everywhere and truckloads of output being shipped and mailed nationwide. This is in great contrast to today and my current involvement in the enterprise content management industry (now Intelligent Information Management) where our attention is largely focused on input...with much less focus on output. We aggressively capture data, input that information into advanced systems and databases, and then safeguard it with methodologies and teams designed to collect and protect information.
AIIM on Air | Collaboration | File Shares
It's warm greetings from sunny San Diego on this episode of the AIIM on Air podcast! Your host Kevin Craine comes to you from The AIIM Conference 2019 floor with a series of interviews from the hallways, sessions, and even poolside at the Conference Party (if you listen closely, you can hear the party's Beach Boys cover band in the background).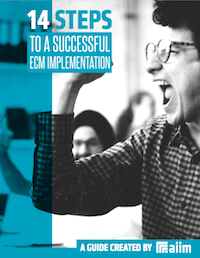 14 Steps to a Successful ECM Implementation
Making an ECM implementation successful requires planning and attention to detail. The best way to create the right solution is to identify organizational goals and priorities. Learn how to manage a successful implementation in our free guide.
Enterprise Content Management (ECM) | File Shares
In a series of recent videos for Hyland (links at the end of this post), Cheryl McKinnon, principal analyst at Forrester Research, spent some time talking about Enterprise Sync and Share capabilities and how they fit into an organization's broader content strategy. She notes, "Enterprise file sync and share (EFSS) has really quickly become a core capability that a lot of busy information workers rely upon. I don't see this as something enterprise IT buyers can ignore."
Cloud | Collaboration | File Shares
[This is a guest post by Travis Roe from Hyland's Cloud team.]
Enterprise File Sync and Share (EFSS) | File Shares
I grew up in the Catholic school system. As a young kid, I geeked out over the list of school supplies needed to start a new school year. I thrived on organization—and took pride in setting up a new file structure in my trapper keeper for my upcoming classes. And when Sr. Bertha or Sr. Edwardine asked to see my notebook and folders, I delighted in sharing with them my well-kept trapper keeper—work in progress, completed, and notes per subject area. Basically, I was a nerd.