Electronic Records Management (ERM) | Healthcare
Unfortunately, I've had a few recent encounters with our healthcare system. As you would expect, I paid attention to the recordkeeping process. The spectrum ranged from paper to born-digital and has me thinking about my health records in a new way.
Enterprise Content Management (ECM)
"Content is data in context." Don't quote me on that. I didn't say it. I don't know who said it. To be accurate, I should say that I don't know who said it first. Lately, whenever I hear that statement, it's in the form of "They say, content is data in context."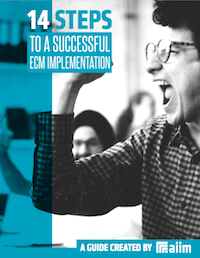 14 Steps to a Successful ECM Implementation
Making an ECM implementation successful requires planning and attention to detail. The best way to create the right solution is to identify organizational goals and priorities. Learn how to manage a successful implementation in our free guide.
Information Security | Sharepoint and Office 365
For the past many years, I've been focused on creating better, easier, and more reliable ways of gathering information. I learned early on that we had to give some incentives to people if we wanted them to cooperate without information gathering efforts. If we could improve a process that was still somewhat manual, for example, we could encourage people to put stuff in SharePoint. If we could move some of that content to SharePoint Online, making access easier and more dependable, we might further encourage people to use the platform. Still, the bulk of our energy was being spent on collecting, identifying, and processing the information on its way into permanent storage.
Enterprise Content Management (ECM)
Simply put, we aren't managing content; we are hoarding stuff. Stuff we think might have value, stuff we think we have to keep, and stuff we simply lost track of so long ago that we no longer know what it is. I have stuff like this in my inbox; you may have some of this stuff too. If you don't, you don't have to look very hard to find it. Maybe it's in a shared drive; maybe it's on your C: drive; maybe it's still in a file cabinet; and maybe it's already made its way into SharePoint.
You are not too small for Document Management. Size doesn't matter; the junk drawer in your kitchen is just as big a headache as the pile of boxes in your garage. Not addressing document management means you are likely to fail at some point to find the right information for the job. It also means you might be paying to keep information you no longer need. If you're big enough to get sued, you're big enough to be forced into e-discovery. If you plan to stay in business, you are going to have new employees at some point. Document Management addresses all these issues.
Not all SMBs are the same. I work for an insurance company with about 30 people, but we are more like an insurance company than we are like most 30-person organizations. We have Accounting, Underwriting, Claims, Loss Control, IT -- all the things you would expect to find in an insurance company. The nature of our business simply allows us to function with a small staff. On the other hand, we are not enough like an insurance company to find value in the marketing materials you give to large insurance companies. If you want to market to us, you're just going to have to get to know us. In many cases, given the amount of effort you (vendors) have to make for the limited amount of sales we can provide, it seems like you aren't really interested. Or, you are only interested when the economy is bad – I'm hearing from a lot of interested vendors today.