AIIM Community | Change Management
The new year always brings with it a handful of important questions around the AIIM Community. What are the key trends in information management? What are the top challenges to overcome? More importantly, what are the best practices and strategies to overcome them?
AIIM Conference | Digital Transformation
We're so excited to announce that registration for The AIIM Conference 2021 for records and information professionals is now live!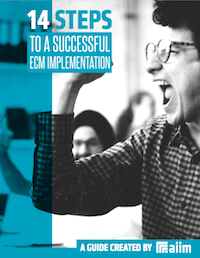 14 Steps to a Successful ECM Implementation
Making an ECM implementation successful requires planning and attention to detail. The best way to create the right solution is to identify organizational goals and priorities. Learn how to manage a successful implementation in our free guide.
AIIM Conference | Digital Transformation
Leading brands don't change their brand story. They perfect by telling it over and over again. What's AIIM's story? We believe that information is an asset. Information provides value to organizations. We want to change the perception of what managing it looks like. Ultimately, it's about moving records and information management from a perceived cost of doing business, to a key competitive differentiator and driver of your digital transformation. At the heart of this transformation is a drive to understand and anticipate our customers and provide them with the best experience we can. True digital transformation leaders make it easy to do business with them.
Collaboration | Sharepoint and Office 365
You know that saying, "When life gives you lemons, make lemonade"? It's something I try to live by. I'm a self-proclaimed eternal optimist and always try to look for the positive in everything. If you do it often enough, you'll soon find that there is always a positive way to look at things. It won't always turn the bad completely good, but it will always put a positive spin on it and make it easier to handle. Finding even a glimmer of hope through positivity can be enough to pull you through. This year, life didn't just give us lemons; it basically gave us a sea of lemons. The unexpected COVID crisis hit and changed…well, everything. In business, organizations were forced to rethink how they view remote work, remote workers, and the systems used to support them. And for the majority, we were unprepared: Only 34% of the organizations surveyed reported that their organization was "very prepared" for remote work prior to COVID.* Today we're going to look at this overwhelming sea of life's lemons and see if we can't squeeze out at least a glass of lemonade!
Change Management Principles Why do so many organizations struggle with implementing change? Is it bad tactical plans? Poor strategy? A lack of focus from senior leadership? Many times, it boils down to people – the human side of change. Careful consideration and planning for your company's culture, values, people, and behaviors could help separate your project from the majority that fail. An intimate understanding of the human side of your change can be achieved through Change Management. Today we're going to look at the principles of Change Management as they are covered in AIIM's training. Some excerpts from the training will even be used to help in explaining these principles.
Sometimes, change is natural. The caterpillar changing to a butterfly, the tadpole changing to a frog – these types of changes happen all the time in nature. Yet, change in business can feel anything but natural. And it's not just at your place of business. According to McKinsey research, "nearly 70% of change programs fail to achieve their goals, largely due to employee resistance and lack of management support." That's a powerful stat. It tells us not only that most change projects fail; it even gives us insight into why. It's the people side of change.