AIIM Conference | Information Management
Have you ever watched a football game or other sporting event where they gave the players or coaches microphones? Or, how about an 'after show' of your favorite reality tv program? I don't know about you, but these are some of my favorites to watch because it gives the viewer a more intimate look than you would get by just watching the game or show normally. In these 'real life' situations you can hear directly from the players as they pump up their teammates, hear the strategy being passed between players and coaches, or hear directly from a reality tv star about what they were feeling during a specific situation.
Collaboration | File Shares | Information Management | co-authoring
It's warm greetings from sunny San Diego on this episode of the AIIM on Air podcast! Your host Kevin Craine comes to you from The AIIM Conference 2019 floor with a series of interviews from the hallways, sessions, and even poolside at the Conference Party (if you listen closely, you can hear the party's Beach Boys cover band in the background).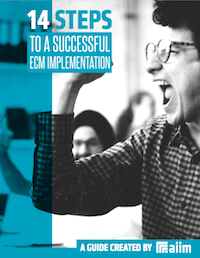 14 Steps to a Successful ECM Implementation
Making an ECM implementation successful requires planning and attention to detail. The best way to create the right solution is to identify organizational goals and priorities. Learn how to manage a successful implementation in our free guide.
"Every organization is on — or should be on — a Digital Transformation journey." I would bet that this isn't the first time you've heard that statement. At AIIM, we really believe in that statement, so we've been practically screaming it from mountain tops.
AIIM Conference | Information Management
Are you counting down the days until The AIIM Conference 2019? Yeah, same here! But, I have a couple things that I think will help tide us over until the end of March when we all head to San Diego, CA.
Ask any builder and they'll probably tell you that the strength of a building lies in its foundation. It's the portion of the building upon which the entire structure sits – meaning without a solid foundation, a building or home won't stand the test of time and can actually be dangerous to its occupants.
Artificial Intelligence (AI) | machine learning
No matter where you turn, it seems you can't help but run into discussion about Artificial Intelligence being the future of Intelligent Information Management. In fact, when we surveyed the AIIM Community about it and found that: 81% of organizations reported that Deep Learning and Machine Learning are key to their future technology and business planning.