AIIM on Air | Information Security
Remote working comes with a number of benefits both for the employee and the employer. Employees enjoy a better work-life balance, the comfort of their home office, and can avoid the stress of a commute. Businesses can save money, improve employee retention, and more. But, new challenges also arise with the recent boom in remote working, including cybersecurity threats like ransomware, data hacking, viruses, and more. At the office, typically somebody else takes care of the cybersecurity measures. But, when employees are working remotely on their home wifi systems, it's a bit of a different story. On this episode of the AIIM on Air Podcast, we take a look at what you can do to keep your systems safe and your company and private information protected.
Automation | Information Governance
Back in the day, when work was centralized in locations and on devices "within" the enterprise, it was reasonable to assume that control could most effectively be maintained by managing security at the firewall. Information security was largely a function of "keeping the bad guys out." Fast forward to today's business environment, and it's a much different story. We're all doing some portion of our work remotely, using mobile and cloud technology to do it. Meanwhile, the bad guys have become even more advanced. This new business environment has led to governance failures at three key pressure points: Information "entry points" Information "end points" Policy administration Let's explore what's causing the pressure at each of the three points.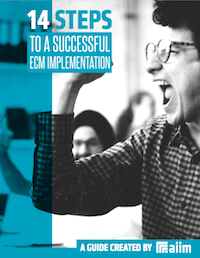 14 Steps to a Successful ECM Implementation
Making an ECM implementation successful requires planning and attention to detail. The best way to create the right solution is to identify organizational goals and priorities. Learn how to manage a successful implementation in our free guide.
AIIM on Air | Intelligent Information Management (IIM)
We're packing in the fun with this month's podcast episode by exploring 3 important intelligent information management topics. First, we ask - What's it like to be a Records Officer at a major college or university? To find out, we talked to Samara Carter, Records Officer at George Mason University who joins us for another AIIM Member Spotlight interview. She stops by the show to share what it's like to work in records at George Mason, the biggest information challenges she's working on right now, and her thoughts on being an AIIM member.
Automation | Process Automation
As Information Professionals, we're facing a perfect storm of sorts - as information chaos continues to grow, so does the value of this information. Information is now cascading down on every organization in unprecedented volumes and forms, challenging traditional and manual concepts of records management and information stewardship. Simply put – we've just got too much stuff, with too much value, and we can no longer handle it all manually. It's this intersection of information chaos and information value that's moved Intelligent Automation to a top priority for organizations everywhere. It is no longer enough to just store and archive content; it must be put to use in context as part of a broader drive to Intelligent Automation. But, is Intelligent Automation right for you? Is now the right time? Let's cover some questions to help you determine if Intelligent Automation could help you reign in your operations.
AIIM on Air | Intelligent Information Management (IIM)
We're now operating twenty years into a new millennium. But despite the futuristic potential, many organizations continue to operate with systems and software that are a decade or more behind the times. Organizations that continue to operate in the past will be challenged to keep pace today – and in the future.
Capture and Imaging | Paperless Office
The concept of a digital mailroom has been around a while. The idea is pretty simple - all incoming mail is scanned on entry and delivered electronically to the appropriate department or process. In reality, only mail with business value is likely to be processed. This will predominantly be documents with a structure such as forms, orders, invoices, delivery dockets, and vouchers. In many situations, particularly in consumer or citizen-facing businesses, it will also include handwritten letters, application forms, change of details, supporting certificates, etc. Circulars, brochures, magazines, and junk-mail will not be scanned.