There is a frenzy around big data today. But beneath the froth and the hype is this underlying and undeniable fact: big data will change the world, if companies start looking beyond the hype of the technology to learn how to put big data to work. There are two important sides to the big data story that must be understood. Right now, the focus on big data is on the technology itself and the exploding opportunities for data scientists - the "Yin." What's missing from this equation is the "Yang" -- the people who put all of this big data to some sort of business use - "Data Entrepreneurs."
According to IDC, the amount of information in the Digital Universe will grow by a factor of 44 between now and the end of the decade. Even more challenging, the number of containers or files will grow by a factor of 67. The subset of information that needs to be secured is growing almost twice as fast. And the amount of UNPROTECTED yet sensitive data is growing even faster.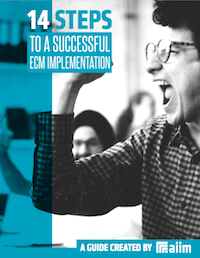 14 Steps to a Successful ECM Implementation
Making an ECM implementation successful requires planning and attention to detail. The best way to create the right solution is to identify organizational goals and priorities. Learn how to manage a successful implementation in our free guide.
Big Data | Enterprise Content Management (ECM)
I've been thinking about the question of the relationship of content and unstructured information to the seemingly never-ending parade of articles about Big Data. There is a certain element to this thinking that frankly is opportunistic, finding me thinking, "Hey, if EVERYONE is going to talk about Big Data, I want a piece of that." But there is also the stubborn reality that unstructured information is the red-headed stepchild of the Big Data equation - and the source of so much untapped value and intelligence in organizations. And our community - users, solution providers, and consultants - knows something about this whole messy question of unstructured information.