AI | Artificial Intelligence | big data | bigdata | content services
Seven (yes, seven!) years ago, AIIM published "The Big Data Balancing Act - Too much yin and not enough yang?" The author of the report was none other than Nuxeo's David Jones, who worked as a business analyst for AIIM at the time.
big data | bigdata | digital transformation,
Those who have been practicing Human resource management for years knows the importance of relying on data analytics for creating an enhanced work culture or else they might lag behind that of other departments. Many of you tend to hold the purse strings that HR deals with people, they do not require dealing with large-scale data efforts and have gone to the back of the queue as a result. With the ever-growing technology advancement, Human Resource professionals have started embracing the future: data analysis.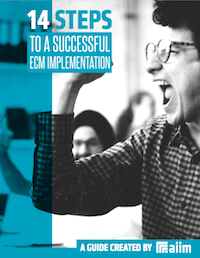 14 Steps to a Successful ECM Implementation
Making an ECM implementation successful requires planning and attention to detail. The best way to create the right solution is to identify organizational goals and priorities. Learn how to manage a successful implementation in our free guide.
Compliance and records management | big data | governance | intelligent information management | security
The amount of data stored on electronic systems today is exploding and growing at an exponential rate. Data breaches, privacy concerns, and growing e-discovery costs continue to evolve how organizations approach controlling their business data while balancing worker productivity. Aged or poor data hygiene can further increase organizational inefficiencies, in aggregate costing billions annually.
big data | bigdata | digital transformation, | podcast
We have a small problem with Big Data...the majority of us just don't completely understand it. Sure, we've all heard the term "Big Data" - but I'm willing to bet if I asked a room full of people what it was, I'd get puzzled looks and shrugged shoulders from about half the room...and I'm sure I'd lose most of the other half of the room if I followed up that question by asking how to leverage big data for real business value.
big data | data | digital transformation, | information professional
In 1989, I took my first decision sciences course, and started coding in SAS at the age of 20. I greatly enjoyed pulling discoveries buried within mounds of data, although and even small datasets had many discoveries back then. At the root of every model I've built, even the simplest, was a solid understanding and foundational rigor of statistical theory. When computing simple statistics or developing descriptive models, I thought through the math behind the model and how this would impact the formation, application, and interpretation. It was about 30 years ago when I started my decision sciences journey, and I'm still applying techniques and building models to empirically solve problems, answer questions, overcome challenges that improve, reduce error, or otherwise benefit a situation. Over the past three decades, I've noticed trends and shifts, an evolution of sorts, in the foundational underpinnings of development and application within this interesting profession. I've come to the following conclusions that illustrate the evolution of the data science function over the past few decades:
big data | digital transformation, | digitization | office365 | records management
Are you finding yourself overwhelmed by the amount of data you have to manage? While it's great to stay up with the latest technology, digital transformation can sometimes leave people feeling like there was a document "explosion" in their department. Not to worry, we're here to help.