Blockchain is one of the most important new technologies that has impacted the business world in the last decade. Along with cloud computing, artificial intelligence (AI), and robotic process automation (RPA), blockchain is transforming business operations and challenging traditional methods the world over. For those who are considering adoption for one of its many applications, blockchain can hold great promise.
Blockchain | GDPR | Privacy
A potentially problematic challenge for industry and legislators is the apparent tension between privacy rights and the rapid adoption of blockchain-based applications which are expected to reach $10.6 billion in revenue by 2023.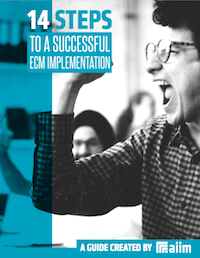 14 Steps to a Successful ECM Implementation
Making an ECM implementation successful requires planning and attention to detail. The best way to create the right solution is to identify organizational goals and priorities. Learn how to manage a successful implementation in our free guide.
Blockchain is the hot topic of the IT industry – the explosive and rapid growth of BitCoin has taken the obscure technology of distributed ledgers into mainstream consciousness. But the question we want to ask is, "Does Blockchain have a role to play in Information Management? Does it have a role beyond cryptocurrencies?"