The recent Court of Justice of the European Union (CJEU) Schrems II ruling, which invalidated the longstanding U.S.-EU Privacy Shield framework, has created a wave of uncertainty for the legal industry. Ever since the U.S.-EU Safe Harbor framework was retired in 2015 as a result of Schrems I, lawyers have faced challenges in ensuring the legality of transferring data between the EU and U.S. in multi-national litigation and investigations. For the last five years, Privacy Shield has been central to alleviating that burden. Now, lawyers are left wondering what's next and whether their current standard contractual clauses (SCCs) for data transfers will remain viable. And if not, what options are left?
Collaboration | Information Governance | Privacy
With the new year in full swing, there's a lot of conversation around what comes next and what 2020's impact will mean for 2021. IT teams, specifically, are working to understand how to get a grip on content sprawl in the era of remote work. A recent study commissioned by Egnyte surveyed 400 IT leaders to understand how COVID-19 has impacted businesses' ability to maintain data security and governance with a distributed workforce.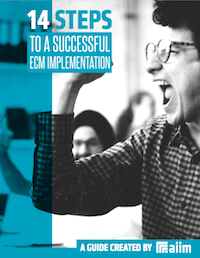 14 Steps to a Successful ECM Implementation
Making an ECM implementation successful requires planning and attention to detail. The best way to create the right solution is to identify organizational goals and priorities. Learn how to manage a successful implementation in our free guide.
There have been some interesting developments in the world of E-Discovery tied to many of the same privacy protection laws and regulations changing the game in records and information management. To get a better understanding of how these regulations are affecting cross-border Discovery, we connected with our friends at the Association of Certified E-Discovery Specialists (ACEDS). Please enjoy this guest post by Mike Quartararo, President of ACEDS. Parties in the US are allowed broad and liberal discovery of electronically stored information (ESI) relevant and proportional to the claims and defenses in a legal action. When a US-based litigant seeks ESI stored in other countries, however, it raises thorny legal and practical issues. ACEDS recently conducted a webinar on this topic entitled "Now What? Cross-Border and International Discovery Post-Schrems II" with Bryant Isbell from Baker & McKenzie and Eric Mandel from Driven.
Artificial Intelligence (AI) | Privacy
As the COVID-19 pandemic continues to accelerate, there are some innovative efforts to minimize its impact. In one such approach, a multidisciplinary group of computer scientists, mathematicians, and epidemiologists at the Big Data Institute at Oxford University have developed a mathematical model instantiated in a mobile application that traces contact. Those involved in the project believe it's "..possible to stop the epidemic…if contact tracing is sufficiently fast, sufficiently efficient, and happens at scale." Typically, contact tracing is the most effective way to contain an outbreak. However, with a virus like COVID-19, that's preponderantly transmitted by asymptomatic patients, "classical contact tracing will not be enough to achieve the speed and efficiency needed, but it could be achieved by a contact tracing mobile app if used by a sufficiently large proportion of the population."
AIIM on Air | Business Process Management (BPM) | Privacy
As we enter into a new decade, it's hard not to look back and reflect on how different everything is now. Twenty years ago, the world was a completely different place than it is today.
Artificial Intelligence (AI) | Information Security | Privacy
According to the 2019 IDC study of spending on Artificial Intelligence (AI), it's estimated to reach $35.8 billion in 2019 and is expected to double by 2022 to $ 79.2 billion representing an annual growth rate of 38% for the period 2018-2022. The economic benefits and utility of AI technologies are clear and compelling. No doubt, applications of AI may address some of the most vexing social challenges such as health, the environment, economic empowerment, education, and infrastructure. At the same time, as AI technologies become more pervasive, they may be misused and, in the absence of increased transparency and proactive disclosures, create ethical and legal gaps. Increased regulation may be the only way to address such gaps.