Blockchain is one of the most important new technologies that has impacted the business world in the last decade. Along with cloud computing, artificial intelligence (AI), and robotic process automation (RPA), blockchain is transforming business operations and challenging traditional methods the world over. For those who are considering adoption for one of its many applications, blockchain can hold great promise.
Cloud computing is an expanding technology that is leading the digital transformation of businesses in various sectors. The strategies that organizations take in their cloud journey can give them a competitive advantage and lead to rapid growth. But this may not only mean a simple deployment of technology that the company must adapt to, a new cloud approach could be truly transformative.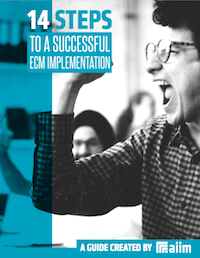 14 Steps to a Successful ECM Implementation
Making an ECM implementation successful requires planning and attention to detail. The best way to create the right solution is to identify organizational goals and priorities. Learn how to manage a successful implementation in our free guide.
Business Process Management (BPM)
Businesses looking for ongoing growth and scalability try to achieve these goals through different approaches that can provide "that extra advantage." One such approach is business process management, which aims to find and make ongoing improvements in the operations of a business. This is currently a popular tactic in the business world, featuring various applications, techniques, and tools which make it a complex field of business development.