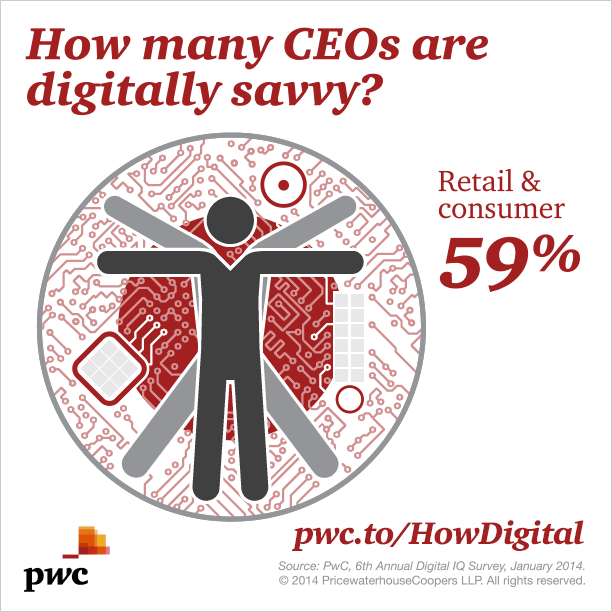 [This is a guest post by , an Advisory principal with PwC and leader of PwC's Digital and Customer practices.]
The CEO as Digital Champ? It's Happening...
Over the next five years, one of the most fundamental distinctions between success and failure for businesses will be the degree to which CEOs become digital champions.
In our latest Digital IQ survey of 1,500 business and IT executives, we found that 63% of top-performing companies had CEOs who were addressing tough issues like how to effectively collect and interpret data on their products and consumers; by contrast, only 44% were doing this in the lower-performing groups.
Here's the degree to which CEOs are embracing the champion role by sector:
CEOs looking to claim this mantle can do the following:
CEOs need a strategy fit for the digital age. This would encompass growth, productivity, customer experience, products and services, partnerships, risk and more. Yesterday's obstacle is a new opportunity for digital.
CEOs must rethink the planning process. Asking the right questions at the right time is key for maximizing digital potential. Digital is not the question, where to start and accelerate your digital journey is.
CEOs must own it. From the C-suite down, every leader must have a clear-cut vision of how they will take digital and build it into their strategies. This cannot be left in hands of a single executive who is meant to create change through influencing many. The CMO and the CIO are the best executive examples of executives leading the charge but where is the rest of the C-suite.
[Tom Puthiyamadam's work is focused on co-developing and executing strategies to increase an organization's growth and operational performance. Tom has significant experience in global transformation services for Fortune 500 companies, specializing in growth strategy, customer strategy, organization design, marketing, sales, and service effectiveness.]
-----
Also related to this topic from AIIM -- Information Opportunity vs. Information Chaos -- free e-book. And -- I want simple solutions even a CEO can love.