AIIM Conference | Electronic Records Management (ERM)
The success of any project relies on involving stakeholders early on and keeping them properly informed throughout. A systems development project is no different. If you want the systems that you build, buy, and develop to properly manage information assets across the life cycle, then you have to leverage the knowledge of your RIM team.
In today's digital era of information technology, a company needs to consider several factors to decide how to manage their data and documents online. A large share of companies have now adopted cloud-based infrastructure, but many still rely on the tried-and-true legacy of on-premises document management software programs. If you, too, are in a dilemma as to which solution is right for your business, stick around as here is a detailed comparison between cloud and on-premises document solutions.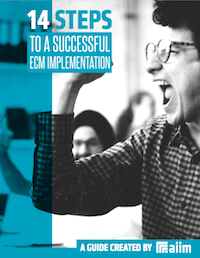 14 Steps to a Successful ECM Implementation
Making an ECM implementation successful requires planning and attention to detail. The best way to create the right solution is to identify organizational goals and priorities. Learn how to manage a successful implementation in our free guide.
I recently watched a webinar by Jason Baron called "Vanishing Acts: The Challenge of Dealing with Ephemeral and Self-Destructing Messaging Apps in the Workplace." Jason's a really smart guy and has written about ephemeral messaging in business before. While I agree with him generally, I think information professionals, and especially those in government or highly regulated sectors, really need to think about the risks involved with the use of these apps.
AIIM on Air | Document Management
Reaching your Digital Transformation goals often requires the addition of new software solutions. But, shopping around for software can be a challenge.
Certified Information Professional (CIP)
You might think that here at AIIM we'd say everyone is a good candidate for the CIP designation. But, as the architect for the most recent updates to the Certified Information Professional (CIP) certification, a teacher of the CIP prep course, and a CIP pin-wearing member since its release in 2011, I don't think it's always a perfect fit.
Artificial Intelligence (AI) | Machine Learning
This is the third part of a 3-part series on the Ethical Use of Data for Training Machine Learning Technology by guest authors Andrew Pery and Michael Simon. You can also check out Part 1 and Part 2 from this series. Part 3: Regulatory Efforts in the U.S. Present a Bleak Perspective In the United States, governmental efforts to examine AI have made far less progress as compared to the E.U. The most recent effort at the federal level, the Algorithmic Accountability Act of 2019 (S.1108) sponsored by Senator Ron Wyden (D-OR) and Senator Cory Booker (D-NJ)(with a parallel House bill, H.R.2231, sponsored by Representative Yvette Clark (D-NY)), seeks "To direct the Federal Trade Commission to require entities that use, store, or share personal information to conduct automated decision system impact assessments and data protection impact assessments." The proposed law would require the Federal Trade Commission to enact regulations within the next two years to require companies that make over $50 million per year or collect data on more than 1 million people to perform an "automated decision system impact assessment." However, unlike the GDPR's transparency requirements (no matter how debatable), the proposed bill would not require those assessments to be made public. Despite this lack of a transparency provision, the bill was quickly endorsed by a number of civil rights groups.