Automation | Process Automation
As Information Professionals, we're facing a perfect storm of sorts - as information chaos continues to grow, so does the value of this information. Information is now cascading down on every organization in unprecedented volumes and forms, challenging traditional and manual concepts of records management and information stewardship. Simply put – we've just got too much stuff, with too much value, and we can no longer handle it all manually. It's this intersection of information chaos and information value that's moved Intelligent Automation to a top priority for organizations everywhere. It is no longer enough to just store and archive content; it must be put to use in context as part of a broader drive to Intelligent Automation. But, is Intelligent Automation right for you? Is now the right time? Let's cover some questions to help you determine if Intelligent Automation could help you reign in your operations.
Digital Transformation | Paperless Office | Process Automation
Many of us find ourselves working from home – often rather suddenly and unexpectedly. Organizations of all sizes and in all industries are now in the position of figuring out how to ensure that the business of the business continues while staff stay home and practice effective social distancing. The good news is that the technology needed for effective working from home exists and is generally mature – though some providers have found that the sudden surge in volume can cause issues with particular solutions or capabilities. But there's a much more significant issue that will prevent many employees from being as effective as they possibly could be in their home offices: paper. No, not the paper products that have been scarce for weeks now, but all the paper documents and records that are still prevalent in so many organizations. There are a number of issues associated with keeping information in paper format – or worse, printing born-digital documents – and I'll address some of them later in this post. But in this context, the key challenge is that your paper documents are at the office, where you can't get to them. Now what?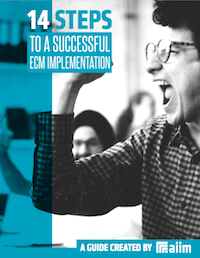 14 Steps to a Successful ECM Implementation
Making an ECM implementation successful requires planning and attention to detail. The best way to create the right solution is to identify organizational goals and priorities. Learn how to manage a successful implementation in our free guide.
Digital Transformation | Paperless Office | Process Automation
It seems like everyone is talking about coronavirus: what it means to the global and local economies, how it impacts different industries, even how to make your own hand sanitizer to combat it. One of the key approaches many organizations are taking is to minimize sustained contact with large groups of people. This has led to the cancellation of numerous conferences and other events; many schools and universities are asking students to stay home and participate remotely. Similarly, organizations are thinking about whether it makes sense to have employees come into the office and run the risk of getting infected or already being infected and, in turn, infecting others. Maybe it's time for organizations to more fully explore the idea of a digital workplace.
Automation | Business Process Management (BPM) | Process Automation | Robotic Process Automation (RPA)
I've been involved in some way or another in the world of business process automation (BPM) for over twenty years. I was the author of AIIM's first BPM training course back in 2006. I'm a big fan of the idea of reengineering business processes, but there is no getting away from the fact that BPM projects are complex and scary – they require buy-in from the top (which is always difficult) and are seldom inexpensive undertakings.
Automation | Data Management | Process Automation
Your business deals with documents on a constant basis. Without technology in place, organizing the different types of files and contact points for written communication can be intense. You might have paper contracts, email and attachments, faxes, and web forms all integral to the same client or customer file. This is where capture automation becomes effective in streamlining your productivity and organizational ability.
Business Process Management (BPM) | Intelligent Information Management (IIM) | Process Automation
Is "information chaos" in your core business process processes slowing your organization down? Making you less competitive? Frustrating your employees, suppliers, and customers?