Information Management | Paperless Office
Steps to Make Your Paperless Office Dream a Reality According to AIIM research, 75% of the organizations we surveyed view digital transformation as "important" or "very important" to their organization. But why? Most respondents pointed to operational savings as a result of a more digital and connected workflow. In other words: cut the paper, cut the inefficiencies.
IIM x | Paperless Office | information security | privacy
No, you read that title right – seventy THOUSAND boxes of paper in the highly restrictive environment of legal services. That's what Susan Gleason, Manager of Records and Information Governance at Shipman & Goodwin and her team were up against.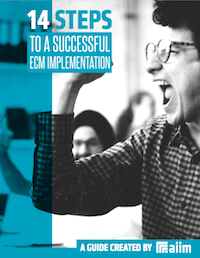 14 Steps to a Successful ECM Implementation
Making an ECM implementation successful requires planning and attention to detail. The best way to create the right solution is to identify organizational goals and priorities. Learn how to manage a successful implementation in our free guide.
Capture and Imaging | Paperless Office | business intelligence
Oh that joke is as old as you can imagine, and I have heard a lot of them. And I have heard "offices will be paper free when (you fill in the blank)". In fact, I was once one of those people and to an extent still am because it is still true.
Business Process Management (BPM) | Paperless Office
Chinese New Year is host to many traditions from tasty, meat-packed dumplings to an all hours riot of fireworks. Over its two weeks, the whole country erupts in celebration—it's a sight to be seen. But above all Spring Festival traditions, I have a clear favorite; maybe you have heard of it before: the gifting of red paper envelopes filled with money.
Business Process Management (BPM) | Paperless Office
Although paper is still heavily used in the Insurance sector, the reality is that we're living in an age where paper is slowing us down. Often referred to as multichannel inbound content, information enters the business in many different ways and in many forms. In addition, the amount of information we are dealing with is on the rise, which means the risk of paper-based information being misplaced, lost, or misclassified is greater than ever.
Business Process Management (BPM) | IIM x | Paperless Office
In pursuit of the paperless enterprise it is often easy to lose our way. Projects stall, months pass and ROI is nowhere on the horizon, and all the while paper continues to rifle through our processes like stubborn weeds. Paper overwhelms the enterprise, and the difficult task to remove it all can cause a crisis of motivation.