AI | AIIM19 | Artificial Intelligence | digital transformation, | intelligent information management
There are some important sessions planned for AIIM19 this year. Topics range from artificial intelligence to business process automation and data analytics and beyond. But none will be more informative than a session planned by David Jacopille from Massachusetts Financial Services titled "Bot Bootcamp: How to Manage Your Artificial Employees." I spoke recently with David and asked him to give us a preview of what to expect.
AI | Artificial Intelligence | digital transformation, | podcast
If you take a look around your office, home, or even places like your car you're sure to see it – Artificial Intelligence. And it's not just in our personal lives, in the world of business we continue to grow and expand the way we work with the use of automation, smart machines, and more.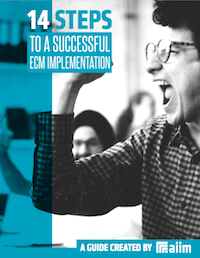 14 Steps to a Successful ECM Implementation
Making an ECM implementation successful requires planning and attention to detail. The best way to create the right solution is to identify organizational goals and priorities. Learn how to manage a successful implementation in our free guide.
AI | Artificial Intelligence | automation | document | document management
Artificial Intelligence (AI) is obviously all the rage. Consider the search traffic on "Artificial Intelligence" since early 2016. As a result, just about every technology product in the world now seems to have the artificial intelligence "label" attached to it.
Artificial Intelligence | digital transformation, | machine learning | training
Disruptive Technologies are changing existing landscapes Technology has had a profound impact on the business world. Simply walk into any business, no matter the size, and you will see the prolific adoption of technology. Digital project boards, virtual teams scattered across the globe; are all indicators of business reliance on this "fourth industrial revolution." From industry data and anecdotal evidence, this tech utilization is on an exponential increase.
Artificial Intelligence | branding | digital transformation, | virtual reality
Virtual reality has a truly astounding trajectory. The VR hardware and software market has already tripled in size in only two years. In a few short years, Statista predicts that the market size for virtual reality software and hardware will expand to over $40 billion. Only a decade ago, virtual reality seemed like a distant dream. Now it seems that VR is more than an outlet for escapism, entertainment, and media. It seems VR is poised to disrupt all sorts of business practices and even entire industries. For instance, healthcare, education, and journalism are experimenting with VR and related technologies.
Artificial Intelligence | digital disruption | digital transformation, | machine learning | podcast
For me, "Artificial Intelligence" used to conjure up images of the latest Sci-Fi movie or things like the talking car KITT from the 80's TV show Knight Rider. It wasn't until fairly recently that I began to see this shift from Sci-Fi movie topic to business value.