AI | Artificial Intelligence | automation | document | document management
Artificial Intelligence (AI) is obviously all the rage. Consider the search traffic on "Artificial Intelligence" since early 2016. As a result, just about every technology product in the world now seems to have the artificial intelligence "label" attached to it.
Artificial Intelligence | digital transformation, | machine learning | training
Disruptive Technologies are changing existing landscapes Technology has had a profound impact on the business world. Simply walk into any business, no matter the size, and you will see the prolific adoption of technology. Digital project boards, virtual teams scattered across the globe; are all indicators of business reliance on this "fourth industrial revolution." From industry data and anecdotal evidence, this tech utilization is on an exponential increase.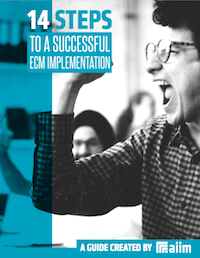 14 Steps to a Successful ECM Implementation
Making an ECM implementation successful requires planning and attention to detail. The best way to create the right solution is to identify organizational goals and priorities. Learn how to manage a successful implementation in our free guide.
Artificial Intelligence | branding | digital transformation, | virtual reality
Virtual reality has a truly astounding trajectory. The VR hardware and software market has already tripled in size in only two years. In a few short years, Statista predicts that the market size for virtual reality software and hardware will expand to over $40 billion. Only a decade ago, virtual reality seemed like a distant dream. Now it seems that VR is more than an outlet for escapism, entertainment, and media. It seems VR is poised to disrupt all sorts of business practices and even entire industries. For instance, healthcare, education, and journalism are experimenting with VR and related technologies.
Artificial Intelligence | digital disruption | digital transformation, | machine learning | podcast
For me, "Artificial Intelligence" used to conjure up images of the latest Sci-Fi movie or things like the talking car KITT from the 80's TV show Knight Rider. It wasn't until fairly recently that I began to see this shift from Sci-Fi movie topic to business value.
Artificial Intelligence | automation | data | digital transformation, | machine learning
The venerable template allows structured form data to be accurately extracted. In the document capture industry, the concept of templates where you specify the location of each data element is a tried-and-true strategy for structured forms. If the form is standardized, giving the software the precise place to look for data will almost always result in better performance over alternatives such as rules-based approaches using keywords or patterns. Even with unstructured data such as on invoices, we find that many organizations have opted for a template approach after finding that more flexible, rules-based approaches fall short. The result is a tremendous amount of upfront effort and a lot of maintenance.
Artificial Intelligence | automation | data | digital transformation,
Having your cake and eating it, too, is a proverb that's almost 500 years old, which means you cannot have two incompatible things at the same time. So many examples of situations exist where you face two mutually exclusive options. Let's take document capture. Document capture software is designed to automate document-oriented tasks such as sorting or extracting key data. In order to achieve that automation, you must spend time to configure the software to identify documents and reliably locate and extract that data with a high enough degree of accuracy that your staff need only be involved in verifying a small percentage of it.