"With great power comes great responsibility" is an adage that Stan Lee's Spider-Man popularized in popular comics, films, and other media. In Information Management today, there is great power in systems that leverage Artificial Intelligence for quickly making decisions and processing massive volumes of information. As information managers, we have a responsibility to understand that these systems have a potential for bias and how to identify and mitigate risks associated with producing reliable and ethical systems.
Artificial Intelligence (AI) | Automation | Intelligent Information Management (IIM) | Process Automation
Since the earliest forays into optical character recognition (OCR) by Ray Kurzweil in the early 1970s, software developers have been on a mission to teach computers how to do the paperwork for us. What if the computer could replace the interminable number of hours needed each day in offices around the globe for humans to read documents, understand the meaning, and extract the right data for the next step in a work process? What if the computer could also do the data entry?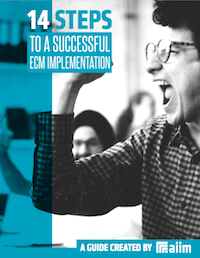 14 Steps to a Successful ECM Implementation
Making an ECM implementation successful requires planning and attention to detail. The best way to create the right solution is to identify organizational goals and priorities. Learn how to manage a successful implementation in our free guide.
Take a deep breath. This is another article about ChatGPT and Generative AI. I'll be honest. I am the type of person that struggles to resist a good hype cycle. In 2021, I couldn't stop talking about the metaverse. I even organized a half-day workshop on the metaverse, with part of the event held in the metaverse. It was very meta.
Artificial Intelligence (AI) | Content Services | Robotic Process Automation (RPA)
Electric utilities in the United States are a major source of CO2 – they created 1.55 billion metric tons of it in 2020. This sector vies only with transportation in producing the most pollution on the planet. And according to the US Energy Information Agency, consumption is expected to grow by 50% by the year 2050.
AIIM on Air | Artificial Intelligence (AI)
The notion of Artificial Intelligence has pervaded both the business world and popular culture. And, while Hollywood often portrays AI in a future world of smart robots with super-human characteristics, the truth is that AI technologies are already at work fueling important changes in the way business is conducted every day.
AIIM on Air | Artificial Intelligence (AI)
How will humanity survive the AI revolution? Simple—we become superhuman. That is the subject of our new AIIM On Air interview with author and researcher Alex Bates.