It's easy to overlook email as 'old school,' but the fact is that we still use email extensively, especially in business. Radicati released updated figures early in 2019 that shows the total number of active email users has jumped to 3.9 billion. More than that, American workers will receive an average of 126 emails a day. And while most folks think of email mostly as transactional messaging, the marketing power of email is still going strong. A study by The Manifest found that 43% of businesses are expected to spend more money on email marketing in 2019. So for those of us in the information management business, the question becomes: how do you overcome the challenge of capturing, archiving, managing and making the most of our old friend email. Here is some advice and best practices from our CIP study guide that can make a difference.
AIIM Conference | Electronic Records Management (ERM) | Email Management | Retention
Allow me to introduce you to Wendy McLain, Manager of Enterprise Content & Records Management at Valero. Valero is a publicly traded international oil and gas company, with revenue in the billions of dollars. Wendy will be presenting at The AIIM Conference 2018. Her session is called "How We Learned to Love Event Based Retention: A Valero Energy Case Study in Records Management." I thought this would be a great time to catch up with Wendy and ask her some questions.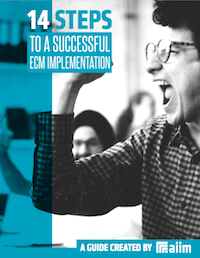 14 Steps to a Successful ECM Implementation
Making an ECM implementation successful requires planning and attention to detail. The best way to create the right solution is to identify organizational goals and priorities. Learn how to manage a successful implementation in our free guide.
Email Management | Enterprise Content Management (ECM)
According to Radicati, the average worker sends or receives 122 emails per day. The Washington Post notes, "Any cubicle drone with a corporate email address knows this well already, of course, but a new report from Adobe describes the problem with some pretty startling numbers. According to its data, which is sourced from a self-reported survey of more than 1,000 white-collar workers in the country, we spend an average of 4.1 hours checking our work email each day. That's 20.5 hours each week, more than 1,000 hours each year, more than 47,000 hours over a career." In the real world, the intersection (or more accurately, the lack thereof) between the world of many unconnected repositories and lots of work in the real world being done in an email client is the source of a lot of the frustration with many ECM systems – and one of the reasons why file shares remain so prevalent. Almost every knowledge worker has experienced the "two screen" phenomenon – working in email or a business application on one screen, while viewing the information you need from an ECM system on the other. According to AIIM research, file shares are still in widespread use among 52% of companies with at least one ECM system in place. Find out more in our Tip Sheet, 4 Things You Need to Know About the Real World of Multiple ECM Repositories.
Electronic Records Management (ERM) | Email Management
As the quote goes, "Fool me once, shame on you. Fool me twice, shame on me." I guess fool me a gazillion times, and we're talking politicians. Sometimes I feel like it is getting impossible to figure out where the politicians on The Good Wife and House of Cards leave off and where the real ones begin. So let me get this straight. We've got us another "Case of the Missing Emails." Per the New York Times, Mrs. Clinton did not have a government email address during her four-year tenure at the State Department. Her aides took no actions to have her personal emails preserved on department servers at the time, as required by the Federal Records Act....Under federal law, however, letters and emails written and received by federal officials, such as the secretary of state, are considered government records and are supposed to be retained so that congressional committees, historians and members of the news media can find them. There are exceptions to the law for certain classified and sensitive materials. Sigh. Jason Baron, who is smarter than anybody else I know on this kind of thing, had this nuclear winter take (as quoted in the Times): "It is very difficult to conceive of a scenario — short of nuclear winter — where an agency would be justified in allowing its cabinet-level head officer to solely use a private email communications channel for the conduct of government business," said Jason R. Baron, a lawyer at Drinker Biddle & Reath who is a former director of litigation at the National Archives and Records Administration.... "I can recall no instance in my time at the National Archives when a high-ranking official at an executive branch agency solely used a personal email account for the transaction of government business," said Mr. Baron, who worked at the agency from 2000 to 2013. You can't make this stuff up. In the interest of being balanced, here's an alternative take in the Daily Beast but the whole thing still doesn't sit right.
Certified Information Professional (CIP) | Electronic Records Management (ERM) | Email Management | Enterprise Content Management (ECM)
Here's a short primer on Email Management from our Information Certification educational videos (they're free! -- and feel free to embed them on your own web site!)