Taking care of your old documents is a complicated process. On the one hand, you need to keep them stored away so that they don't obstruct your daily work and clutter up the workspace. On the other, however, when you do need the documents, you need to be able to locate them quickly and not waste hours trying to figure out where they might have ended up.
It's bad enough that those of us in the technology space use three-letter acronyms as if we're being paid per usage. So here's a quick definition of terms for those mystified by the title of this post. If you are not conversant in Dr. Doolittle (even the Eddie Murphy version), Pushmi-Pullyu is a "gazelle-unicorn cross that has two heads (one of each) at opposite ends of its body."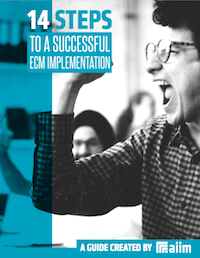 14 Steps to a Successful ECM Implementation
Making an ECM implementation successful requires planning and attention to detail. The best way to create the right solution is to identify organizational goals and priorities. Learn how to manage a successful implementation in our free guide.
Accounting and Finance | Digital Preservation | Insurance
In Digital Preservation -- Is your current approach to long-term digital information failing the business? I wrote that our two key information management objectives — utilization of information and preservation of it — got separated along the digital journey. In the process, long-term preservation of digital information took a backseat to the short-term utilization and optimization of this information in business processes. In addition, many organizations lost track of the key differences between back-up, archiving, and true long-term preservation.
According to IDC, the digital universe is doubling every two years, and will reach 40,000 exabytes (40 trillion gigabytes) by 2020. (Note: A single exabyte of storage can contain 50,000 years' worth of DVD-quality video.) Organizations that fail to immediately address the long-term preservation implications of this massive tsunami of data as it enters the organization will never ever catch up.
In the true confessions category, I will admit to not having a formal IT background. Yes, I know. Shocking. As a further step down the true confessions path, I will admit that I was an economics and history double-major as an undergraduate.
Digital Preservation | eDiscovery
As regulators and courts increasingly exercise their oversight powers, it can be expected that they will hold organizations accountable to explain the evaluations which underpin their ESI (Electronically Stored Information) preservation protocols. The business impact of this heightened level of regulatory and judicial scrutiny is that enterprises that ignore the ESI preservation risks inherent in local and remote working, as well as the management of employee Web 2.0 communications, do so at their peril. Since over 93% of enterprise records are electronic, and the volume and mix of data types are exploding, millions of electronic documents are now routinely collected from all locations where an organization has custody, control, or access to electronic documents – be it in London, Lima, or Timbuktu. The dynamic nature of ESI means that critical documents can easily be overwritten, modified, destroyed, or corrupted during normal use. It does not matter whether this happens accidentally or maliciously. The result is the same – loss of potentially relevant evidence giving rise to probable criminal penalties, fines, or court sanctions for spoliation.