AIIM on Air | Accounting and Finance | Paperless Office
There may be no other industry that could benefit more from automation than the mortgage banking industry. This industry is full of time-consuming, error-prone, and paper and labor-intensive processes, all perfectly-suited for automation. And with huge volumes of loans being generated each year (nearly 5 million new consumer mortgages alone), it may soon become impossible to move forward without the use of automation.
AIIM on Air | Accounting and Finance | Automation
I don't know about you, but when I think of Pepsi, I think of cool and refreshing. In fact, the last thing to come to mind is labor-intensive. But, for the staff at PepsiCo's Imaging Technology - the creator of document imaging and management solutions for PepsiCo's worldwide network of business entities - labor-intensive, time-consuming, and error-prone were exactly what they were experiencing. The company's four largest European entities were still keying invoicing and credit memo data manually for all of their accounts payable processes.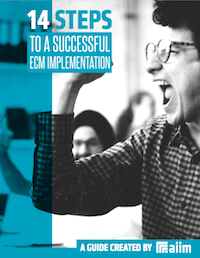 14 Steps to a Successful ECM Implementation
Making an ECM implementation successful requires planning and attention to detail. The best way to create the right solution is to identify organizational goals and priorities. Learn how to manage a successful implementation in our free guide.
Accounting and Finance | Automation
AP Automation is an obtainable goal in this century, in this decade, this year! In fact, companies like Pepsi are already doing it. How may you ask? If you can relate to this stat from recent AIIM research where 52% of respondents say their invoice processes take at least three days – some up to as many as 25 days – when using manual solutions for invoice data entry, validation, and approval using paper, you are a prime candidate. So, where to start?
Accounting and Finance | Digital Preservation | Insurance
In Digital Preservation -- Is your current approach to long-term digital information failing the business? I wrote that our two key information management objectives — utilization of information and preservation of it — got separated along the digital journey. In the process, long-term preservation of digital information took a backseat to the short-term utilization and optimization of this information in business processes. In addition, many organizations lost track of the key differences between back-up, archiving, and true long-term preservation.
Accounting and Finance | Automation | Paperless Office
Everybody is now talking about the need for a digital transformation. Companies need to improve digital engagement and corporate productivity to serve better click-to-brick customers and millennials entering the workplace, expecting online services, and almost instant gratification.
Accounting and Finance | Certified Information Professional (CIP)
When asked what the CIP means to me, I immediately smile. This accomplishment means a lot - both on a professional and personal level. You must be wondering - how did an accountant become a Certified Information Professional?