Enterprise Content Management (ECM) | Enterprise File Sync and Share (EFSS)
The term The Enterprise Content Management (ECM) has been with us for 15 years. It hasn't been a perfect term, and perhaps in truth has been better suited as a description of a strategy than as a description for a set of IT tools and technologies.
Enterprise File Sync and Share (EFSS) | File Shares
I grew up in the Catholic school system. As a young kid, I geeked out over the list of school supplies needed to start a new school year. I thrived on organization—and took pride in setting up a new file structure in my trapper keeper for my upcoming classes. And when Sr. Bertha or Sr. Edwardine asked to see my notebook and folders, I delighted in sharing with them my well-kept trapper keeper—work in progress, completed, and notes per subject area. Basically, I was a nerd.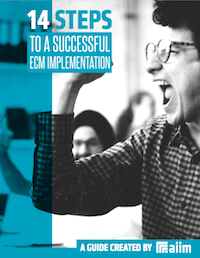 14 Steps to a Successful ECM Implementation
Making an ECM implementation successful requires planning and attention to detail. The best way to create the right solution is to identify organizational goals and priorities. Learn how to manage a successful implementation in our free guide.
Enterprise Content Management (ECM) | Enterprise File Sync and Share (EFSS)
Organizations often wring their hands worrying about the "Dropbox" effect – employees using unsanctioned and consumer grade file sync and share solutions to improve their own personal productivity. Within this often frustrating user behavior, though, is a key truth: Many ECM solutions are too simply too complicated and cumbersome to meet the needs of the modern knowledge worker.
Enterprise File Sync and Share (EFSS)
We recently surveyed organizations about their use of file sync and share solutions, and have posted on some of our findings. See our previous posts:
Enterprise Content Management (ECM) | Enterprise File Sync and Share (EFSS)
Are your employees using file sharing tools that you don't want them to use? If so, you are not alone. In fact, 65 percent of organizations surveyed reported that they are aware that their employees are using unsanctioned file sharing tools, according to a new AIIM research report. And the fact that the other 35 percent said they are "not aware" of employees using unsanctioned tools is not necessarily reassuring, as this is not an indication that it's not happening. The issues revealed in this research report are all very real. In order of impact, these are the top concerns organizations have when comes to sharing content: Issue 1: Lack of visibility into what's being shared and where it is located The top concern – identified by 60 percent of respondents – is a lack of visibility into what users are sharing and accessing. Unsurprisingly – and likely related to this lack of insight – legal and audit implications were the second largest area of concern, as organizations cannot prove the location of or report on information that they can't see. Issue 2: Inability to control who is sharing and accessing your information A second major challenge identified in the report is the inability to control who is sharing information outside the organization (i.e. employees signing up for online file sharing tools using personal email accounts, etc.). Indeed 49 percent of respondents identified this as a critical issue. I don't think it's any coincidence that the EXACT same number of people, 49 percent, cited that they are also concerned about employees retaining access to sensitive or proprietary information after they leave the organization. That's a scary prospect, especially when your industry is governed by strict compliance regulations regarding the handling of certain data. Data that potentially disgruntled ex-employees should NOT retain access to include things like patient information, credit card details, customer data, company-owned intellectual property, merger information, financial data and anything else of a proprietary nature. Issue 3: Risk of granting unintentional access The third major issue circles around the idea of what happens after a user has shared a link to a document or folder. About 40 percent of respondents expressed concern around the concept of shared links never expiring, increasing risk of compromising data, as well as shared links being accessible to anyone who gains access to these links. Overcome these issues with education Clearly, there are several good reasons why you can't ignore issues related to cloud-based document sharing. According to the AIIM study, the top recommendation for addressing this problem can be boiled down to one simple but powerful word: EDUCATION. By educating your employees on the risks of sharing using unsanctioned tools, you're taking a giant step toward a safe, secure file sharing strategy. Get the AIIM Paper today.
Enterprise File Sync and Share (EFSS)
There is a growing demand by and for employees to share and collaborate on documents with people inside and outside of their organizations. As a result, today's businesses must carefully assess their file sharing needs, and pivot towards adoption of more synchronous methods of interacting with key processes and content.