Automation | Electronic Records Management (ERM) | Information Governance
Before we start, let's take a minute to address the big elephant in the room. You're probably thinking, "Where are you going with this sales angle, Sean? I work with records and information, and my job is all about managing, protecting, and storing it. I don't sell a thing!" Well, what we're going to cover today will show you that you ARE, in fact, in the business of selling when it comes to Information Governance – it's just a slightly different model than we're all used to. In this selling model, we're not exchanging goods and services for money; we're exchanging ideas for acceptance.
Automation | Electronic Records Management (ERM) | Information Governance
Words are important. Beyond that, the words you choose can mean the difference between someone understanding what you're saying and someone giving you that glazed expression with one eyebrow lifted saying, "Huh?" It's just as important to think of WHO you are communicating to, as it is to think of WHAT you're trying to say. Allow me to share a quick example to illustrate my point. One of my favorite hobbies is fly fishing. To me, there's nothing like being out in the middle of nowhere, wading into the middle of a crystal clear river, and trying to fool some trout.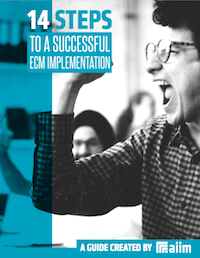 14 Steps to a Successful ECM Implementation
Making an ECM implementation successful requires planning and attention to detail. The best way to create the right solution is to identify organizational goals and priorities. Learn how to manage a successful implementation in our free guide.
Automation | Information Governance
Digitally Transforming IS the Future Most organizations and departments have a mandate to continuously improve operations. A conventional change agenda involves better tools and technology, better behaviors, and better processes, all focused on generating better efficiencies and improved productivity - a transition called Digital Transformation.
Change Management | Information Governance
You've been told that your information management project needs governance. Maybe you've even formed a governance committee. However, what is governance, anyway? If you've been in organizations for a while, you're likely indoctrinated into the theory of control; however, that's not what governance is about. Still, you must have governance, or you'll end up with chaos. How do you tame the mythical siren of governance to guide your users to safety and your organization to value?
AIIM on Air | Information Governance
When I think back to this time last year, I'm shocked by just how different things are since the start of COVID-19. Businesses have gone through major shifts in record time - projects like moving to a remote office environment that often takes months to complete were carried out in just a few days or weeks.
Information Governance | Intelligent Information Management (IIM)
In this series, we've been exploring the intersection of IIM policy and the law in order to help IIM practitioners and legal specialists work together more effectively by gaining a better understanding of the relationship between the two. So far, we've covered: Part 1 - IIM Policies and The Principle of Hearsay Part 2 - IIM Policies and "Ordinary Course of Business" Now, let's compare IIM policies to contracts.