Metadata resides at the center of many of the essential aspects of content management. In addition to helping organize and classify content, Metadata enables good findability, can trigger workflow and transactional processes, reveals document usage patterns and history, and helps establish retention and disposition events. So far in our exploration of Metadata, we've answered some of the big questions already, including: What is Metadata? What is the business value of Metadata? How do I develop a Metadata strategy? Today, we'll be taking the next step and exploring how to build your Metadata plan. Let's get started!
What's the Importance of a Metadata Strategy? Many organizations use metadata in ways that provide significant business value. Every system uses metadata to store and retrieve data. But in too many organizations, every system uses similar but different metadata, with the result that different data structures and approaches make information harder to find and manage, not easier. Take a simple example of an employee name: In one system, it's "first name last name." In another, it's "last name, (comma) first name." And in still another, it's two fields: "First name" and "Last name."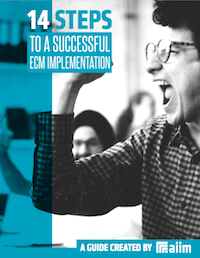 14 Steps to a Successful ECM Implementation
Making an ECM implementation successful requires planning and attention to detail. The best way to create the right solution is to identify organizational goals and priorities. Learn how to manage a successful implementation in our free guide.
Information needs context, and we need to provide that context in a way that doesn't burden users but instead supports them. This means we need to take full advantage of recognition and analytics technologies to streamline and automate how we develop that context. One such tool is Metadata. Metadata offers significant benefits in terms of understanding information in new ways and in being able to leverage that intelligence to drive innovation and the customer experience.
We once had an IT person who worked for us who took a page out of the old Saturday Night Live routine, Nick Burns -- Your Company's Computer Guy, who guarantees to "fix your computer and then make fun of you."
Enterprise Content Management (ECM) | Metadata | Taxonomy
Last weekend, we moved my daughter up to New York City. She started a job today as a nurse at Columbia Presbyterian hospital, and the apartment is on 10th Avenue a bit north of the Port Authority (pizza place on one side of the door, Irish bar on the other, Dunkin Donut down the block – what's not for me to like?). My wife and I are alternately very proud and terrified of her accomplishment and move. Mostly the former. Her place is in the middle of the picture below by the pride flag.
Enterprise Content Management (ECM) | Enterprise Search | Metadata
1. No One Wants Unfettered Information Unless your IT budgets are growing faster than your enterprise content volumes, you need an approach to manage, surface, and control information that does not mandate adding more storage, staff, or restrictions. The systems responsible for content understand nothing about the subject or domain of information under their management. Search engines, content management systems, process engines are all blind to meaning and context. In real life, the meaning of a piece of information determines its usefulness, relevance, and treatment. Semantics add a layer of intelligence by describing what the content is about, using structured data – a.k.a. metadata. Metadata can be used to drive workflows, archiving policy, search, compliance, access control, and discovery.