Artificial Intelligence (AI) | Robotic Process Automation (RPA)
Growing up, my parents taught me that there are some questions that aren't appropriate to ask. Generally, it's safe to avoid asking people their age, their salary, their weight, their politics, etc. Some questions can make the people being asked feel uncomfortable and so should be avoided.
Robotic Process Automation (RPA)
I've been involved in some way or another in the world of business process automation (BPM) for over twenty years. I was the author of AIIM's first BPM training course back in 2006. I'm a big fan of the idea of reengineering business processes, but there is no getting away from the fact that BPM projects are complex and scary – they require buy-in from the top (which is always difficult) and are seldom inexpensive undertakings.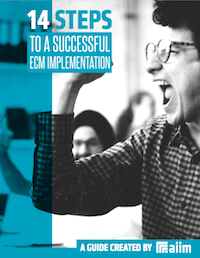 14 Steps to a Successful ECM Implementation
Making an ECM implementation successful requires planning and attention to detail. The best way to create the right solution is to identify organizational goals and priorities. Learn how to manage a successful implementation in our free guide.