AIIM on Air | Accounting and Finance | Paperless Office
There may be no other industry that could benefit more from automation than the mortgage banking industry. This industry is full of time-consuming, error-prone, and paper and labor-intensive processes, all perfectly-suited for automation. And with huge volumes of loans being generated each year (nearly 5 million new consumer mortgages alone), it may soon become impossible to move forward without the use of automation.
AIIM on Air | Information Security
Remote working comes with a number of benefits both for the employee and the employer. Employees enjoy a better work-life balance, the comfort of their home office, and can avoid the stress of a commute. Businesses can save money, improve employee retention, and more. But, new challenges also arise with the recent boom in remote working, including cybersecurity threats like ransomware, data hacking, viruses, and more. At the office, typically somebody else takes care of the cybersecurity measures. But, when employees are working remotely on their home wifi systems, it's a bit of a different story. On this episode of the AIIM on Air Podcast, we take a look at what you can do to keep your systems safe and your company and private information protected.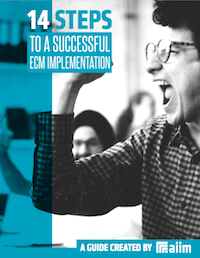 14 Steps to a Successful ECM Implementation
Making an ECM implementation successful requires planning and attention to detail. The best way to create the right solution is to identify organizational goals and priorities. Learn how to manage a successful implementation in our free guide.
AIIM on Air | Electronic Records Management (ERM)
We're packing in the fun with this month's podcast episode by exploring 3 important intelligent information management topics. First, we ask - What's it like to be a Records Officer at a major college or university? To find out, we talked to Samara Carter, Records Officer at George Mason University who joins us for another AIIM Member Spotlight interview. She stops by the show to share what it's like to work in records at George Mason, the biggest information challenges she's working on right now, and her thoughts on being an AIIM member.
AIIM on Air | Enterprise Content Management (ECM)
We're now operating twenty years into a new millennium. But despite the futuristic potential, many organizations continue to operate with systems and software that are a decade or more behind the times. Organizations that continue to operate in the past will be challenged to keep pace today – and in the future.
AIIM on Air | Information Governance
There are a few different scenarios for auditing your data. Audits can be performed to assess data quality, identify data liabilities, ensure data privacy, uncover data leaks, and so on. Information governance audits, in particular, are used to ensure compliance with relevant information governance policies and procedures.
AIIM on Air | Intelligent Information Management (IIM)
The show Star Trek always had the coolest futuristic technology. For example, I can't tell you how many times I've wished I could tell Scotty to "Beam me up!" and be teleported back home. Another thing that really caught my eye on that show was their "universal translator." It was basically this handheld device that allowed you to easily communicate across any language – be it human or alien!