digital transformation, | pdf | podcast
Ask any builder and they'll probably tell you that the strength of a building lies in its foundation. It's the portion of the building upon which the entire structure sits – meaning without a solid foundation, a building or home won't stand the test of time and can actually be dangerous to its occupants.
Digital business | dark data | digital transformation, | pdf
What if every file—from documents to multimedia—was digital and used the same file format: "File.everything"— wouldn't that be nice? But for most workers, the present information environment couldn't be more different. Today, the typical information ecosystem is a content jungle: multiple file formats, a mix of structured and unstructured content, all growing wildly throughout the organization. Under these conditions, search is difficult; unused operational information atrophies into "dark data," or the untapped, operational content that sits idle in our repositories. Dark data is at once a security vulnerability, as well as a missed opportunity to leverage information to its fullest potential. Fortunately, today, there is a solution.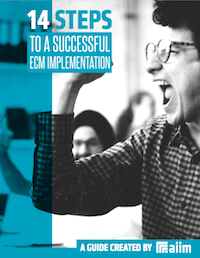 14 Steps to a Successful ECM Implementation
Making an ECM implementation successful requires planning and attention to detail. The best way to create the right solution is to identify organizational goals and priorities. Learn how to manage a successful implementation in our free guide.
PDF/A | aiim16 | disruption | nuix | pdf
We are doing a series of blog posts tied insights from some of the AIIM Board and speakers at AIIM16. We're doing this under the series name, Stop Waiting and Start Doing: Rules to Tackle Digital Disruption. The second "rule" is submitted by former AIIM Board member and PDF Association Executive Director Duff Johnson. Duff Johnson is one of two ISO Project Leaders for the PDF specification, and founded his first company, Document Solutions, Inc., in 1996. Duff is a noted expert on PDF accessibility and the application of accessibility standards to electronic content under Section 508 and similar regulations. He has previously chaired AIIM's Standards Committee, served on AIIM's Board of Directors, and is a recipient of AIIM's Distinguished Service Award.You can follow him on Twitter at @DuffJohnson. Duff's will be running a Roundtable at AIIM16 on PDF Is Here to Stay: Learn to Leverage Its True Power: "PDF files are the most common electronic document file format in the world. An ISO standard since 2008, PDF has been the format of choice for electronic documents for almost two decades, and is increasingly taking over from TIFF in document imaging. PDF is here to stay, but in many cases the power of PDF is not being leveraged." Rule #2 - Leverage the technology you already use. Duff explains: "Many new projects are band-aids applied to old projects. Before you change to system Y, are you sure system X isn't good enough? Maybe you should look again with fresh eyes." Brian Tuemmler, Director of IG Product Strategies at Nuix, offers this take (Nuix is a sponsor of AIIM16): "You also may find a new use for system X altogether. It surprises some people that building a legacy content retention category involves similar tasks to discovering litigation content, investigating crimes and protecting classified materials. You can use the same tools with minor changes for all of those use cases." ----- Previous "Rules" Disruption Rule 1 - Find out what your people are REALLY doing BEFORE claiming you know the ins and outs
8 things | Euronext GLOG | aiim | content management | information management | knowledge worker | pdf | productivity
Today's guest blogger is Paul Walsh, Chief Product Officer of Knowledge Worker Applications for Global Graphics, (NYSE- Euronext GLOG) a leading developer of e-document and printing software. Drawing on a pedigree in PDF, XPS and other document formats, the aim with Global Graphics' gDoc™ product range is to provide a cost-effective mid-point between expensive, over-complex solutions and free but feature-limited PDF conversion tools.
PDF/A | Print09 | archiving | pdf | records management
AIIM in cooperation with the PDF/A Competence Center is holding several U.S. based PDF/Archive seminars. Location: September 15, 2009 - Chicago - McCormick Place (in conjunction with PRINT09) North Building, Level 1, Room N129 (Note: Other locations in the United States for the seminars are being planned.) What will you learn? Attendees will learn about how ISO 19005-1, Document management - Electronic document file format for long-term preservation - Part 1: Use of PDF 1.4 (PDF/A-1) defines a file format based on Portable Document Format (PDF) which provides a mechanism for representing electronic document in a manner that preserves their visual appearance over time. Seminar Program: 8:00 Registration, Coffee and Networking 8:25 Opening and welcome 8:30 PDF/A 101 - Stephen Poe, Crawford Technologies 9:05 PDF/A for Scanned Documents: Paper Becomes Digital - Mark McKinney, LuraTech 10:30 Metadata: What's the Data all About? - Leonard Rosenthol, Adobe Systems 11:05 PDF/A for Today, Stephen Levenson, International Convenor PDF/A from U.S. District Courts 11:45 Closing Seminar Price to attend - $125 To Register, please visit our PDF/A Seminar Registration Page For more information, please email Betsy Fanning Download the PDF/A Seminar Flyer for more information.