These 23 "things you need to know" are drawn from a survey of 464 information professionals conducted earlier this year. Survey respondents represent organizations of all sizes. Larger organizations over 5,000 employees represent 36%, with mid-sized organizations of 500 to 5,000 employees at 29%. Small-to-mid sized organizations with 10 to 500 employees constitute 35%. 73% of the participants were from North America, and 17% from Europe. [Note: My bad on the original post with 27 instead of 23 things; clearly, I was not cut out to be an accountant.]
Yahoo, Best Buy, and other innovation-hungry businesses are rethinking the value of remote work in their organizations. But everyone can't work face-to-face all the time; social collaboration platforms are being called upon by a growing number of organizations to fill this gap. But there's a difference between having social tools in place and actually using them to accelerate innovation and change within an organization. Companies need to get their teams to move beyond "Facebook" social connections and get down to business with these investments.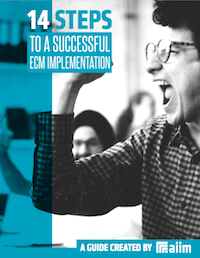 14 Steps to a Successful ECM Implementation
Making an ECM implementation successful requires planning and attention to detail. The best way to create the right solution is to identify organizational goals and priorities. Learn how to manage a successful implementation in our free guide.
Myth #1. Communication is simple. Reality -- We may hope, "It will help management get their message out. The executives can clarify their mission. The managers can state the teams' goals. Issues can be resolved quickly and clearly." Collaboration can't change the fact that, most often, it's impossible or even illegal to say anything of substance down the chain of command except in an office with the door closed. Long term success requires continuous improvement, which requires change. Change always causes pain. Pain cannot be allowed to be expressed except in private.
No professional is an island. We are always engaged in some form of collaboration, whether we are working with colleagues, customers, or partners. As AIIM members know, one of the most visible ways that we collaborate is on documents. We all work together to create budgets, improve presentations, and build sales proposals.
So, you've just deployed your brand-new collaboration app and you're looking forward to using it to improve your efficiency and productivity as you work with your colleagues on different projects. But hold on! How you use the application dictates your likelihood of success. You have to be aware that no matter how many features collaboration products possess (e.g., blogs, wikis, document libraries, etc.) they are only useful when properly adopted by the enterprise. This article outlines eight tactics that can drastically improve your overall productivity when using collaborative apps.
Collaboration | Electronic Records Management (ERM)
If you're like most companies these days, you're in the midst of deploying collaboration tools, such as SharePoint, in an attempt to meet users demands for more open communications. At the same time, you're probably maintaining an array of legacy records management systems, deployed a decade or more ago, which are used to manage a specific subset of data in a very specific way. If you haven't already noticed, these systems are like oil and water.