Collaboration | GDPR | Social Media
A new set of European rules and standards related to privacy and data protection (the General Data Protection Regulation, or GDPR) has set in motion a mad compliance and security scramble not only for European companies, but also for any company doing business in Europe or with European customers. The regulation is designed to harmonize privacy across the EU, codify more rigorous privacy rights, strike a balance between privacy and security, and create an explicit obligation for both data controllers and processors to demonstrate compliance with GDPR. The clock is ticking – the regulation goes into effect on May 25th, 2018, and the potential penalties for non-compliance are significant (organizations found to be in breach of GDPR may be fined up to 4% of annual revenues or 20 million Euro, whichever is the greater).
"Engagement" is the Holy Grail for every organization, and enterprise collaboration systems are at the heart of efforts to more deeply engage employees. Deloitte notes, "In a digital world with increasing transparency and the growing influence of Millennials, employees expect a productive, engaging, enjoyable work experience."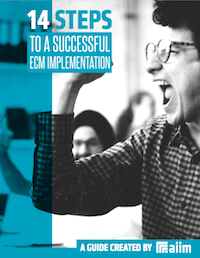 14 Steps to a Successful ECM Implementation
Making an ECM implementation successful requires planning and attention to detail. The best way to create the right solution is to identify organizational goals and priorities. Learn how to manage a successful implementation in our free guide.
Collaboration | Enterprise Content Management (ECM)
Slack has entered the market as a business app to reduce emails and formal meetings. Slack is now known to have 5 million daily active users, and the count of paid Slack accounts has now reached 1.5 million. With more than 60,000 teams existing on Slack it has become a significant player. How is it that Slack -- a communications app – is giving more established enterprise content management companies a run for their money? And yet, there is hardly any conversation about Slack in the ECM community. Why is that?
Cloud | Collaboration | Enterprise File Sync and Share (EFSS)
You know your employees are sharing information with others inside and outside the walls of your organization. But how much of that sharing do you actually control? Are you aware of how often employees are sharing confidential and business-critical information? Do you know who is sharing it?
Collaboration | Digital Transformation | Intelligent Information Management (IIM)
As we start to think about #AIIM15, I thought I would ask a number of our sponsors a few identical questions in order to get an understanding of how they see the future of our industry -- and let those of you attending start to think about your own questions to ask them in San Diego. Here are the three questions I'll ask: What are the three biggest challenges you see your customers facing while trying to "Embrace the Chaos"? What do you see as the three most important trends related to Information Management facing organizations over the next 18-24 months? What will be different in our industry two years from now? What are the three most important things attendees should know about your company?
The exponential growth of information means exponential growth of email. If you today receive 100 new emails per day, will this then become 1,000 new emails per day in 2020? Whatever the number is, it's time to rethink the role of email within your organization.