Compliance | Healthcare | Information Security
Organizations must focus strategically on how to manage digital content and understand that: 1) end-users are consuming technology differently; 2) consumer devices are being increasingly used as "on-ramps" to digital workflows; and 3) how you secure the scan and capture process becomes increasingly important.
Compliance | GDPR | Privacy
Compliance with GDPR is just a short five months away. While there may be many dimensions to consider from a GDPR readiness perspective, there are three steps that are particularly important in order to manage risk and ensure compliance.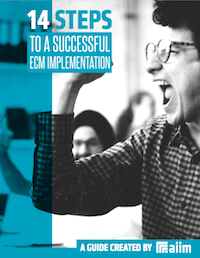 14 Steps to a Successful ECM Implementation
Making an ECM implementation successful requires planning and attention to detail. The best way to create the right solution is to identify organizational goals and priorities. Learn how to manage a successful implementation in our free guide.
Compliance | GDPR | Privacy
Even though The European General Data Protection Regulation (GDPR) will go into effect in just seven short months on May 25, 2018, a recently published Gartner report found that 50 percent of the companies surveyed do not expect to be ready to comply with a much more rigorous privacy regime including its onerous enforcement provisions.
Compliance | GDPR | Privacy
GDPR, the new EU data protection regulation, is just around the corner. The amount of personal data stored by companies and governments has ballooned, and the value of that data has multiplied as more and more personal business is transacted on the internet. Identity theft has become far more prevalent. In addition to the disruption to businesses and the impact on customer loyalty that data breaches create, many jurisdictions are looking to bring their data protection legislation in line with the new, internet-based world – although unfortunately, not into alignment with each other.
Compliance | GDPR | Privacy
As a direct response to the Snowden revelations relating to the bulk collection of personal data by US intelligence the European Commission and the US Department of Commerce jointly developed a new framework purporting to considerably strengthen the protection of privacy rights of EU citizen data when such data is transferred to US data processors and controllers. The previous regime under the Safe Harbor was invalidated by the European Court of Justice in Schrems v. Data Protection Authority, which held that EU citizen's privacy rights are at risk given the broad overreach by US public authorities.
Compliance | GDPR | Privacy
The General Data Protection Regulation (GDPR), which was ratified in 2016 and will be enforced in May 2018, requires companies to meet higher standards for the protection of personally identifiable information. As the deadline gets closer, many US corporations are wondering how GDPR will impact them.