Compliance | Electronic Records Management (ERM) | automation | governance
In The State of Intelligent Information Management: Getting Ahead of the Digital Transformation Curve and in GDPR after the Deadline: Progress, But a Long Way to Go, AIIM began an examination of one of the four key IIM practice areas — Automating Compliance and Governance.
Compliance | Information Governance | automation | information security
As a preview to our upcoming multi-client market research report on the emerging intersection between information governance & security and analytics & machine learning, we asked 50 senior executives and decision-makers for their perspectives on five of the questions we'll be asking in our research (just a snapshot of the 20+ questions we'll be asking in the actual survey).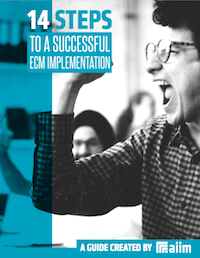 14 Steps to a Successful ECM Implementation
Making an ECM implementation successful requires planning and attention to detail. The best way to create the right solution is to identify organizational goals and priorities. Learn how to manage a successful implementation in our free guide.
Capture and Imaging | Compliance | healthcare | information security
Organizations must focus strategically on how to manage digital content and understand that: 1) end-users are consuming technology differently; 2) consumer devices are being increasingly used as "on-ramps" to digital workflows; and 3) how you secure the scan and capture process becomes increasingly important. Let's explore how these concepts relate to two specific industries – healthcare and retail.
Compliance | Electronic Records Management (ERM) | social media
It's an embarrassing question to ask most organizations, but does your social media presence reflect the reality that the responsibility of business documentation doesn't go away just because the information is on social media?
Compliance | IIM x | gdpr | privacy
May 2018 is just around the corner, and there is a mad scramble to figure out what to do about GDPR. Here are the 3 Keys to Your GDPR Compliance Strategy.