I recently watched a webinar by Jason Baron called "Vanishing Acts: The Challenge of Dealing with Ephemeral and Self-Destructing Messaging Apps in the Workplace." Jason's a really smart guy and has written about ephemeral messaging in business before. While I agree with him generally, I think information professionals, and especially those in government or highly regulated sectors, really need to think about the risks involved with the use of these apps.
Automation | Compliance | Information Governance
In The State of Intelligent Information Management: Getting Ahead of the Digital Transformation Curve and in GDPR after the Deadline: Progress, But a Long Way to Go, AIIM began an examination of one of the four key IIM practice areas - Automating Compliance and Governance.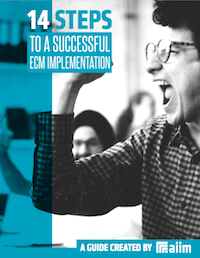 14 Steps to a Successful ECM Implementation
Making an ECM implementation successful requires planning and attention to detail. The best way to create the right solution is to identify organizational goals and priorities. Learn how to manage a successful implementation in our free guide.
Compliance | GDPR | Information Governance
Digital data pervades virtually every aspect of our lives. IDC estimates that by 2025, digital data will grow to 163 zettabytes, 80% of which will be created by businesses. From autonomous cars, robotic process automation, intelligent personal assistants to smart home devices, the world around us is undergoing a fundamental change, transforming the way we live, work, and play.
Automation | Compliance | Information Governance
For our recent multi-client market research report on the emerging intersection between information governance & security and analytics & machine learning, we asked we asked 50 senior executives and decision-makers for their perspectives on more than twenty questions. We summarized the responses from five of those questions we asked into the handy infographic below. Here's a snapshot of what we found out!
Compliance | Healthcare | Information Security
Organizations must focus strategically on how to manage digital content and understand that: 1) end-users are consuming technology differently; 2) consumer devices are being increasingly used as "on-ramps" to digital workflows; and 3) how you secure the scan and capture process becomes increasingly important.
Compliance | GDPR | Privacy
Compliance with GDPR is just a short five months away. While there may be many dimensions to consider from a GDPR readiness perspective, there are three steps that are particularly important in order to manage risk and ensure compliance.