digital transformation, | intelligent capture | intelligent information management
For many years, "capture" was somewhat of an afterthought. ...It was something focused primarily on paper documents. ...It was something focused on archiving the document rather than on the extraction of data from the document. ...It was something you did at some point after information entered the organization. ...It was usually done in the context of one particular business process and needed to be customized to that process.
agile | business agility | digital transformation,
Agile project management is an effective way to manage complex projects. Why is agile so well-suited for long, complicated projects? The agile mentality underscores the importance of communication, collaboration, and continuous improvement. Agile project management is truly an amazing framework that has successfully transformed lagging organizations. Making coworkers feel more connected and engaged with each other and the project means ideas are more easily exchanged and improved upon. Teams are more cohesive, flexible, and adaptive, creating a company culture that fosters growth on every level.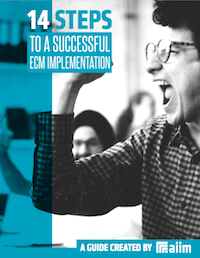 14 Steps to a Successful ECM Implementation
Making an ECM implementation successful requires planning and attention to detail. The best way to create the right solution is to identify organizational goals and priorities. Learn how to manage a successful implementation in our free guide.
AIIM19 | digital transformation, | intelligent information management | podcast
Are you counting down the days until The AIIM Conference 2019? Yeah, same here! But, I have a couple things that I think will help tide us over until the end of March when we all head to San Diego, CA.
digital transformation, | intelligent information management
Recently AIIM released an industry watch report titled, The State of Information Management, Getting Ahead of the Digital Information Curve. In it, AIIM makes the case that every organization is on — or should be on — a Digital Transformation journey. At the heart of this transformation journey is the need to understand, anticipate and redefine internal and external customer experiences. This transformation depends on other important aspirations: business agility and innovation, operational excellence and automated compliance and information governance.
digital transformation, | pdf | podcast
Ask any builder and they'll probably tell you that the strength of a building lies in its foundation. It's the portion of the building upon which the entire structure sits – meaning without a solid foundation, a building or home won't stand the test of time and can actually be dangerous to its occupants.
AI | Artificial Intelligence | deep learning | digital transformation, | machine learning | podcast
No matter where you turn, it seems you can't help but run into discussion about Artificial Intelligence being the future of Intelligent Information Management. In fact, when we surveyed the AIIM Community about it and found that: 81% of organizations reported that Deep Learning and Machine Learning are key to their future technology and business planning.