AIIM on Air | Digital Transformation
What is the future of work? That's hard to say. But one thing seems certain: Disruption lies ahead. Driven by innovations in technology, shifting business strategies, and evolving definitions of success, the workplace is changing fast. As the adoption of things like process automation, AI, and Machine Learning continue to accelerate, so will the pace of change in the workplace. Indeed, with the continuing trend toward remote work, many of us may not have a workplace at all. As a result, we must all reconsider how jobs are designed and work to adapt and learn for future growth.
AIIM on Air | Digital Transformation
I was so pleased to speak with Jason Burian, VP of Product Development at Knowledge Lake, in this episode of AIIM On Air. As companies look to 2021 and beyond and start crafting new strategies and methodologies, it is important to consider those factors and conditions that will most effectively drive organizational performance. Jason discusses the key aspects of process adaptability and information access and how they will influence our success.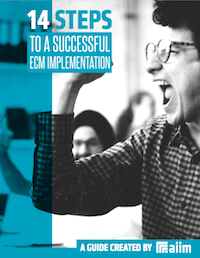 14 Steps to a Successful ECM Implementation
Making an ECM implementation successful requires planning and attention to detail. The best way to create the right solution is to identify organizational goals and priorities. Learn how to manage a successful implementation in our free guide.
AIIM Conference | Digital Transformation
We're so excited to announce that registration for The AIIM Conference 2021 for records and information professionals is now live!
AIIM Conference | Digital Transformation
Leading brands don't change their brand story. They perfect by telling it over and over again. What's AIIM's story? We believe that information is an asset. Information provides value to organizations. We want to change the perception of what managing it looks like. Ultimately, it's about moving records and information management from a perceived cost of doing business, to a key competitive differentiator and driver of your digital transformation. At the heart of this transformation is a drive to understand and anticipate our customers and provide them with the best experience we can. True digital transformation leaders make it easy to do business with them.
AIIM Conference | Digital Transformation
I don't need to tell you that this year has been like no other we've ever experienced. The confluence of events, tensions, and loss has significantly disrupted our personal and professional lives. Even among AIIM members, we have witnessed the toll that these disruptions have taken on mental health, job security, and organizational productivity.
AIIM on Air | Digital Transformation | Enterprise Content Management (ECM)
More and more records managers in state and local government operations tell me that their job is changing. In addition to stacks and stacks of scanned files, and a confluence of different types of electronic files, the inclusion of audio and video records are becoming more and more common. Indeed, many managers now must capture, store, and manage things like audio from 911 dispatch, police camera footage, and other documentary evidence that fall outside the typical scope of "records."