AI | Artificial Intelligence | digital transformation, | podcast
If you take a look around your office, home, or even places like your car you're sure to see it – Artificial Intelligence. And it's not just in our personal lives, in the world of business we continue to grow and expand the way we work with the use of automation, smart machines, and more.
big data | bigdata | digital transformation,
Those who have been practicing Human resource management for years knows the importance of relying on data analytics for creating an enhanced work culture or else they might lag behind that of other departments. Many of you tend to hold the purse strings that HR deals with people, they do not require dealing with large-scale data efforts and have gone to the back of the queue as a result. With the ever-growing technology advancement, Human Resource professionals have started embracing the future: data analysis.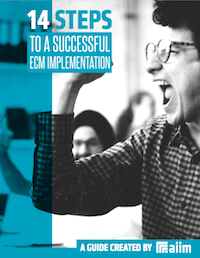 14 Steps to a Successful ECM Implementation
Making an ECM implementation successful requires planning and attention to detail. The best way to create the right solution is to identify organizational goals and priorities. Learn how to manage a successful implementation in our free guide.
big data | bigdata | digital transformation, | podcast
We have a small problem with Big Data...the majority of us just don't completely understand it. Sure, we've all heard the term "Big Data" - but I'm willing to bet if I asked a room full of people what it was, I'd get puzzled looks and shrugged shoulders from about half the room...and I'm sure I'd lose most of the other half of the room if I followed up that question by asking how to leverage big data for real business value.
digital transformation, | human resources
Interviewing full stack developers can be a difficult job. As an interviewer, you'll need to assess personality, technical proficiency, and work ethic all at once. While you may have rounds of interviews to accomplish this, it's best to establish as much as you can within the first interview. How do you accomplish this for a technical interview? How do you interview full stack developers effectively? There are plenty of ways to conduct an interview successfully, so there's not one single format that's guaranteed to work or fail one hundred percent of the time. However, there are some tips and tricks you can employ to ensure your full stack developer interview goes as smoothly as possible.
Following on from our previous article where we identified how digital disruption is breeding new roles in the project and business landscape. We are now going to focus on the hands-on Digital Project Sponsor.
digital transformation, | information security | legal | paperless | podcast | privacy
No, you read that title right – seventy THOUSAND boxes of paper in the highly restrictive environment of legal services. That's what Susan Gleason, Manager of Records and Information Governance at Shipman & Goodwin and her team were up against.