What if every file—from documents to multimedia—was digital and used the same file format: "File.everything"— wouldn't that be nice? But for most workers, the present information environment couldn't be more different. Today, the typical information ecosystem is a content jungle: multiple file formats, a mix of structured and unstructured content, all growing wildly throughout the organization. Under these conditions, search is difficult; unused operational information atrophies into "dark data," or the untapped, operational content that sits idle in our repositories. Dark data is at once a security vulnerability, as well as a missed opportunity to leverage information to its fullest potential. Fortunately, today, there is a solution.
Management had a chat and the robots start next week: Do you… Fortify the office to defend against the Robot Uprising–You won't go down without a fight, right? Repress your inner cave-dweller, and find a way to leverage this new tool to more effectively manage digital documents throughout their lifecycle and delegate manual tasks? If you chose A: Best of luck! If you chose B: You are lightyears ahead of the people choosing A— feel good about that. You are also absolutely right: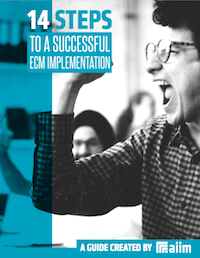 14 Steps to a Successful ECM Implementation
Making an ECM implementation successful requires planning and attention to detail. The best way to create the right solution is to identify organizational goals and priorities. Learn how to manage a successful implementation in our free guide.
Two big bangs in the information management industry thrilled in Orlando at last month's AIIM Conference: Gartner's recent bombshell announcing the "death" of ECM and the announcement of its successor "Content Services." John Mancini's mic drop reveals that AIIM believes the landscape has expanded beyond "ECM" – to "Intelligent Information Management."
Business Process Management (BPM) | Paperless Office
Chinese New Year is host to many traditions from tasty, meat-packed dumplings to an all-hours riot of fireworks. Over its two weeks, the whole country erupts in celebration—it's a sight to be seen. But above all Spring Festival traditions, I have a clear favorite; maybe you have heard of it before: the gifting of red paper envelopes filled with money.
Content Services | Enterprise Content Management (ECM)
In a year people have nominated as the "worst year ever"—2016's nonstop change and upheavals are finally behind us. Has this really been the worst year in history? That I'll leave for the comments to decide, but I do want to bring attention to one 2016 trauma that proves even us—information professionals—cannot escape 2016 unscathed.
You've heard about content analytics. You've been told that your organization needs it. You've been told that you need it. But chances are good no one has bothered to explain what it is and why we all should care.