AIIM Community | Human Resources | Market Intelligence
AIIM has been discussing the next generation of information management leaders and how the industry can better attract and retain young professionals quite a lot in 2023, and with good reason.
Analytics | Intelligent Information Management (IIM)
AIIM is proud to release its State of the Intelligent Information Management Industry report for 2023. Filled with insights and trends that organizations should take note of, the report results from a survey conducted among AIIM members. It provides a comprehensive overview of the current state of information management across different industries.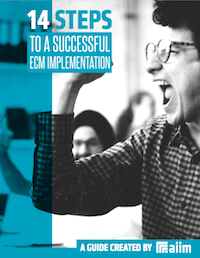 14 Steps to a Successful ECM Implementation
Making an ECM implementation successful requires planning and attention to detail. The best way to create the right solution is to identify organizational goals and priorities. Learn how to manage a successful implementation in our free guide.
AIIM Community | AIIM Conference
Then you better start swimmin' Or you'll sink like a stone For the times they are a-changin'. When Bob Dylan wrote his famous song "The Times They Are a-Changin" in 1963, it was an anthem for the era and the civil rights movement. Dylan's ageless lyrics still resonate today as we navigate political, economic, societal, and technological changes. The information management industry is also undergoing pivotal change due to AI, increasing information chaos, emerging workplace trends, and changing demographics.
We have an information dilemma on our hands at AIIM. Starting the year, we believed that 2023 is the 80th anniversary of AIIM. We have several blog posts referencing 1943 as AIIM's founding date. In fact, we celebrated our 75th anniversary just five years ago. 2023 must be our 80th anniversary, right?
Take a deep breath. This is another article about ChatGPT and Generative AI. I'll be honest. I am the type of person that struggles to resist a good hype cycle. In 2021, I couldn't stop talking about the metaverse. I even organized a half-day workshop on the metaverse, with part of the event held in the metaverse. It was very meta.
Last September, I had just picked up my youngest child from daycare when I received an eagerly awaited phone call. If you have ever been in a car with a squirming, squalling toddler, you know that it's not an environment conducive to hearing. However, I am nearly certain that I was told that the Search Committee and AIIM Board of Directors had selected me as AIIM's next President and CEO. I am thrilled that I didn't mishear and have now joined this special organization.