Even though I've been an AIIM staff for more than 9 years, I continue to pay for my AIIM+ membership out of my own pocket. So it's pretty obvious that I see the value of AIIM+, but you're here to figure out if it's worth it for YOU. My goal with this article is to give you a transparent look at both the pros and cons of an AIIM+ membership.
"It's 2020," you might be thinking, "Who needs associations?" Associations and professional memberships can often be thought of as a relic of the past or a resume builder, but not as a valuable personal development tool. For an introvert, I'm a pretty social, member-y kinda guy. I've been a paid professional member of both AIIM and ARMA for nearly 20 years. I've held memberships in lots of other different groups and associations over the years. And I've even been a member of the United States Marine Corps Drill Instructor Association since 1993.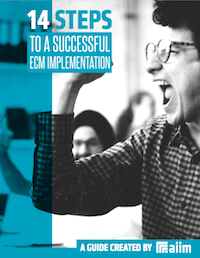 14 Steps to a Successful ECM Implementation
Making an ECM implementation successful requires planning and attention to detail. The best way to create the right solution is to identify organizational goals and priorities. Learn how to manage a successful implementation in our free guide.
I regularly get asked questions about AIIM and ARMA – which one's "better," which one's the right one, what's the difference, etc. I've been a dues paying member of both since 2001 – August 2001 for AIIM, September 2001 for ARMA. I've also served on both organizations' Board of Directors (2004-2005 for AIIM, 2007-2010 for ARMA). I have thoughts on both and will compare them in several key areas, including: Focus Types of Membership Cost of Membership Benefits Chapters and Local Events Number of Members Before we get started, in the interest of total transparency, I serve as AIIM's VP of Training and Certification. With that in mind, our goal with this article is to be unbiased and provide those considering membership with the facts needed to make a decision.
It's 2020. In the age of ubiquitous information freely available online, why do I choose to spend my time, energy, and hundreds of dollars in membership dues a year to stay involved with associations? At AIIM - the Association for Intelligent Information Management - everything we do is to help you and your organization solve your information-driven business challenges. For me, there are three major reasons that associations hold value. They are: Networking Standardization Personal and Professional Development Let's take a look at each of these in greater detail.
Connecting with peers in your industry can be one of the most valuable uses of your time in terms of return – both on a business and personal level. It's a great way to keep up-to-date on industry news and trends, thought-leadership, and special events. But, it's also a great way to share knowledge, help or be helped with a project, and make new friends.
AIIM Community | AIIM on Air | Intelligent Information Management (IIM)
On this episode of the AIIM on Air Podcast, you host Kevin Craine continues the "I Am AIIM" interview series with a look at Intelligent Information Management (IIM) in the Transportation industry. What are the challenges and opportunities with IIM in this industry? To find out, Kevin met up with two AIIM Members coming from completely different perspectives of the industry – public sector and private sector.