Connecting with peers in your industry can be one of the most valuable uses of your time in terms of return – both on a business and personal level. It's a great way to keep up-to-date on industry news and trends, thought-leadership, and special events. But, it's also a great way to share knowledge, help or be helped with a project, and make new friends.
On this episode of the AIIM on Air Podcast, you host Kevin Craine continues the "I Am AIIM" interview series with a look at Intelligent Information Management (IIM) in the Transportation industry. What are the challenges and opportunities with IIM in this industry? To find out, Kevin met up with two AIIM Members coming from completely different perspectives of the industry – public sector and private sector.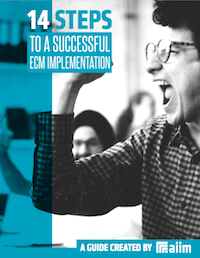 14 Steps to a Successful ECM Implementation
Making an ECM implementation successful requires planning and attention to detail. The best way to create the right solution is to identify organizational goals and priorities. Learn how to manage a successful implementation in our free guide.
On this episode of the AIIM on Air Podcast, your host Kevin Craine dives into the world of Intelligent Information Management in the Utilities Industry continuing the series of "I Am AIIM" member interviews. Kevin chats with two AIIM members from the Utilities Industry – Joanna Hammerschmidt, an Information Management Coordinator at a public water utility in Kansas City and John Daly, an Information Governance Manager for the Metropolitan St Louis Sewer District.
AIIM Tribe | Intelligent Information Management (IIM)
"To Fly. To Serve." That's the motto of British Airways, a carrier I have flown for many years. When I first saw those words displayed on a plaque in the cabin as I boarded my flight, I chuckled. At the time, they seemed rather pretentious for what has become a very commonplace, almost plebeian way to get folks from one place to another. Of course, the more I thought about it, the more I warmed to the seriousness with which somebody at BA viewed the enormous responsibility inherent in transporting hundreds of people across the Atlantic in a silver tube. I realized how much was riding on that bus!
Did you know that AIIM is governed by a Board of Directors (BOD)? Our BOD is the governing body of our Association. We rely on this group of individuals to help us establish strategic direction and set policies. Members of the Board represent a cross-section of our community who volunteer their time and talents to this position.
Some of you may know that, when I was a kid, my dad was my high school principal and my mom was our high school drama teacher. Basically, it meant that NO ONE asked me out on a date. But it also meant that I had a unique front row seat for observing my parents in their 'natural environments'. I knew they taught, I knew they loved what they did, and I knew they were really, really good at what they did because all the kids and teachers loved them. Naturally, I wanted to teach as well. But, unlike them, I had no idea what I wanted to teach. So, as my siblings became a teacher, a pharmacist, and an entrepreneur respectively, I became what they struggle to understand -- "Now what exactly is it that you do?"