data privacy | governance | information governance | information security | security
Data Privacy Day takes place annually on January 28th in recognition of the January 28, 1981 signing of Convention 108, the first legally binding international treaty concerning privacy and data protection. This day, led officially by The National Cyber Security Alliance (NCSA), is an international effort to "create awareness about the importance of respecting privacy, safeguarding data, and enabling trust".
governance | information governance | information security | security
In today's digital world, the chance of information-related security breaches is high. Is your company's data security plan up to date and bullet proof?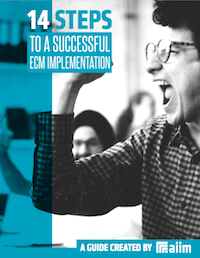 14 Steps to a Successful ECM Implementation
Making an ECM implementation successful requires planning and attention to detail. The best way to create the right solution is to identify organizational goals and priorities. Learn how to manage a successful implementation in our free guide.
Compliance and records management | big data | governance | intelligent information management | security
The amount of data stored on electronic systems today is exploding and growing at an exponential rate. Data breaches, privacy concerns, and growing e-discovery costs continue to evolve how organizations approach controlling their business data while balancing worker productivity. Aged or poor data hygiene can further increase organizational inefficiencies, in aggregate costing billions annually.
automation | compliance | governance | records management
In The State of Intelligent Information Management: Getting Ahead of the Digital Transformation Curve and in GDPR after the Deadline: Progress, But a Long Way to Go, AIIM began an examination of one of the four key IIM practice areas — Automating Compliance and Governance.
governance | information management | office365 | sharepoint
It's hard to overestimate the impact of SharePoint on the information management market. Since its humble beginnings in 2001, it has grown to nearly 200 million seats and is found in every industry sector. If you're reading this blog post, you likely have SharePoint in your organization. But SharePoint can't magically make your information more accessible. There is no SharePoint fairy that assesses all your information, uploads just the valuable stuff to SharePoint, applies appropriate access controls, and fills in the metadata. In fact, most organizations with SharePoint aren't particularly satisfied with it - through no fault of SharePoint or its capabilities. Rather, there are two main issues.