Artificial Intelligence (AI) | machine learning
For me, "Artificial Intelligence" used to conjure up images of the latest Sci-Fi movie or things like the talking car KITT from the 80's TV show Knight Rider. It wasn't until fairly recently that I began to see this shift from Sci-Fi movie topic to business value.
Artificial Intelligence (AI) | Data Management | automation | machine learning
The venerable template allows structured form data to be accurately extracted. In the document capture industry, the concept of templates where you specify the location of each data element is a tried-and-true strategy for structured forms. If the form is standardized, giving the software the precise place to look for data will almost always result in better performance over alternatives such as rules-based approaches using keywords or patterns. Even with unstructured data such as on invoices, we find that many organizations have opted for a template approach after finding that more flexible, rules-based approaches fall short. The result is a tremendous amount of upfront effort and a lot of maintenance.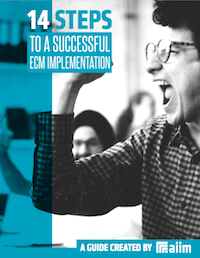 14 Steps to a Successful ECM Implementation
Making an ECM implementation successful requires planning and attention to detail. The best way to create the right solution is to identify organizational goals and priorities. Learn how to manage a successful implementation in our free guide.
Artificial Intelligence (AI) | machine learning
For over 10 years now, AIIM's Leadership Council (LC) summit series has been the go-to event where the forward-thinking professionals in information management gather to delve into matters impacting the future of the industry. These member-only events offer a collaborative space for the dynamic conversations that help shape the role of the information management industry in a new era of business. In June of 2018, summit meetings were held in in Baltimore and London to discuss Surviving Digital Disruption: Finding Opportunity in the Drive for Platform Dominance. The discussion from those events was developed into a report: Surviving Digital Disruption (available for download).
Artificial Intelligence (AI) | machine learning
These days it feels almost impossible to have a conversation with anyone involved in the world of Information Management without bringing up machine learning and artificial intelligence. Everyone is talking about it, everyone has an opinion, everyone claims to be doing it — or at least thinking about doing it. AI is part of the popular zeitgeist, entering our lives in the form of autonomous vehicles on our roads, Alexa in our homes, and a burgeoning AI arms race between rival world powers. Yet despite all the talk, no one really seems to agree on what its real impact will be. In fact, everyone seems to have a different definition for what 'it' even is. There are those telling us it's nothing new and its potential is over-hyped, while others tell us that AI and Machine Learning will make us all redundant.
Artificial Intelligence (AI) | Content Management | Information Management | machine learning
Truly disruptive moments occur only once in a generation. They occur when the cumulative inertia of technology innovation combines to disrupt business models. And the heart of disruption is ultimately when radical technology changes are standardized and then incorporated into new business models.
Capture and Imaging | Enterprise Content Management (ECM) | Information Management | machine learning
When I was a young child, in an era when school papers had to be researched in libraries with card catalogs and shelves upon shelves of books, my father had the bright idea to purchase a complete set of Encyclopedia Britannica. Now, we lived on a tight budget and my mother wasn't too thrilled with this splurge when a perfectly good library was so close to home. Dad wouldn't hear of it! "Our girls need the best education we can offer," so of course, mom relented.