Intelligent Information Management (IIM)
We surveyed members of the AIIM Community as a part of our yearly look at the state of the industry. The numbers are in— 46% of respondents graded their organizations as poor or needs improvement when it comes to dealing with the rising tide of information chaos. Even more alarming, senior executives feel more confident in their efforts than the reality would suggest. Here's a look at how the AIIM Community self-assessed on how well the strategies for business and technology align in their organization. For fun and visual effect, we've created this 2021 Informational Professionals' report card to present the results.
Data Privacy Day takes place annually on January 28th in recognition of the January 28, 1981 signing of Convention 108, the first legally binding international treaty concerning privacy and data protection. This day, led officially by The National Cyber Security Alliance (NCSA), is an international effort to "create awareness about the importance of respecting privacy, safeguarding data, and enabling trust".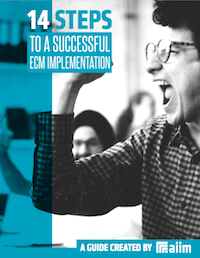 14 Steps to a Successful ECM Implementation
Making an ECM implementation successful requires planning and attention to detail. The best way to create the right solution is to identify organizational goals and priorities. Learn how to manage a successful implementation in our free guide.
In today's digital world, the chance of information-related security breaches is high. Is your company's data security plan up to date and bullet proof?
Enterprise Content Management (ECM)
Finding the right information quickly is an imperative function for all organizations, yet 75% of AIIM respondents said this is a challenge for them at work. One main cause is the overwhelming amount of costly legacy information systems and technologies that are difficult to modernize or connect to one another to make useful. Sound familiar?
Big Data | Electronic Records Management (ERM) | Sharepoint and Office 365
Are you finding yourself overwhelmed by the amount of data you have to manage? While it's great to stay up with the latest technology, digital transformation can sometimes leave people feeling like there was a document "explosion" in their department. Not to worry, we're here to help.
With a little more than three months left of 2018, many businesses are focusing on what goals they want to achieve in the New Year. While some have talked of digital transformation, there is still an alarming number of workplaces that have yet to embrace digitizing paper documents and processing digital documents fully.