Artificial Intelligence (AI) | Cloud | Data Management | Information Management | content services
In today's world, where the consumer is king, excellent customer experience is imperative for the success of your business. To achieve this, your data cannot be fragmented, redundant, obsolete, or inaccessible. Most organizations are currently dealing with more information than they can handle. This can be expensive as resources on storing, protecting, and securing information are costly. It's important to understand what data you have, why you have it, and why you need it - it's then that your data can be leveraged as an asset. [FREE Webinar: Learn more from this Case Study on Leveraging Data to Transform Customer Experience]
Data Management | Information Governance | governance | information security
Data Privacy Day takes place annually on January 28th in recognition of the January 28, 1981 signing of Convention 108, the first legally binding international treaty concerning privacy and data protection. This day, led officially by The National Cyber Security Alliance (NCSA), is an international effort to "create awareness about the importance of respecting privacy, safeguarding data, and enabling trust".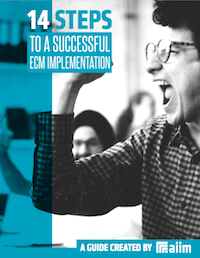 14 Steps to a Successful ECM Implementation
Making an ECM implementation successful requires planning and attention to detail. The best way to create the right solution is to identify organizational goals and priorities. Learn how to manage a successful implementation in our free guide.
Information Governance | governance | information security
In today's digital world, the chance of information-related security breaches is high. Is your company's data security plan up to date and bullet proof?
Enterprise Content Management (ECM) | Information Management
A new year gives us the chance to reflect on all we've accomplished and set our sights on new challenges to conquer. If you haven't embarked on your Digital Transformation journey, this is the perfect time to begin.
Electronic Records Management (ERM) | Enterprise Content Management (ECM) | Sharepoint and Office 365 | office365
A study (conducted by Hyperfish, Sharegate, and Nintex) found that 50% of organizations still use manual processes to enforce SharePoint governance. It doesn't have to be this way! New Office 365 capabilities allow you to automate important governance activities and core business processes.