AIIM Conference | Digital Transformation
We're so excited to announce that registration for The AIIM Conference 2021 for records and information professionals is now live!
AIIM Conference | Digital Transformation
Leading brands don't change their brand story. They perfect by telling it over and over again. What's AIIM's story? We believe that information is an asset. Information provides value to organizations. We want to change the perception of what managing it looks like. Ultimately, it's about moving records and information management from a perceived cost of doing business, to a key competitive differentiator and driver of your digital transformation. At the heart of this transformation is a drive to understand and anticipate our customers and provide them with the best experience we can. True digital transformation leaders make it easy to do business with them.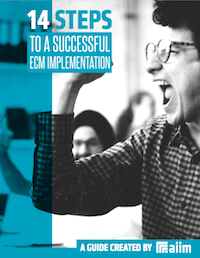 14 Steps to a Successful ECM Implementation
Making an ECM implementation successful requires planning and attention to detail. The best way to create the right solution is to identify organizational goals and priorities. Learn how to manage a successful implementation in our free guide.
AIIM Conference | Digital Transformation
I don't need to tell you that this year has been like no other we've ever experienced. The confluence of events, tensions, and loss has significantly disrupted our personal and professional lives. Even among AIIM members, we have witnessed the toll that these disruptions have taken on mental health, job security, and organizational productivity.
AIIM Conference | AIIM on Air | Change Management
In 1936, Dale Carnegie's "How to Win Friends and Influence People" first published. Since then, it's become one of the best-selling books of all time with over 15 million copies sold! What makes this self-help book one of the most influential of our time?
The AIIM Conference is fast-approaching and whether you've already secured your ticket, still trying to convince your boss to send you, or just can't attend this year - we have something for everyone on this latest episode of The AIIM on Air Podcast.
AIIM Conference | Change Management
Enacting change is easier when you don't have to go at it alone. In fact, a major factor in the success of organizational change comes down to internal buy-in with your co-workers. The more internal advocates you have on your side, the easier that positive change can spread quickly and efficiently. The old adage about there being 'strength in numbers' holds true when it comes to change management.